You'd like to write a story, but every time you think of an idea, you realize someone else wrote that one already. You figure all the good story ideas are used up. That's it. There are no more. The last original novel has been written.
I don't think so. New books, movies, and TV shows are coming out all the time.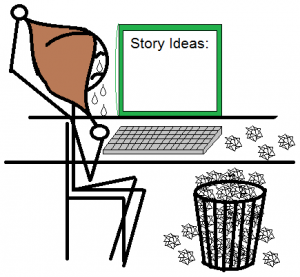 No, you protest. Those aren't new. They're just rehashes or remakes of old ideas, with some new flair added. They're just old stories brought into modern times, well-used story lines put in a new setting, or known plotlines with the main characters' genders reversed.
If so, that's great news for you. It means you don't have to think of something completely original, either. If rehashes or slight twists work so well, then you can succeed with that method, too. That's the message Melissa Donovan delivers very well in this post.
I think what you're really telling me is, you're stuck for an idea, and every time you think of one, you recognize you'd be copying what someone has already done.
There's a particular genre you enjoy reading, and you consider yourself knowledgeable about that genre, and you'd like to see if you can write a story yourself. But you see that field as being well-plowed already. For every story idea, you immediately think of the existing, published story that used that idea.
You're just in a mental rut, that's all. It's possible to climb back out.
Here are some suggestions for coming up with story ideas. These might work for you, or they might spark thoughts about other ways to accomplish the same thing:
Do Internet or Twitter searches for trending key words. Combining seemingly unrelated key words might result in the nugget of a story idea. I'm convinced that's how Kevin Eastman and Peter Laird came up with the idea for the Teenage Mutant Ninja Turtles.
Search websites in your genre for words or thoughts that are trending. Those might suggest story ideas.
Try the Suzanne Collins method. She came up with the idea for The Hunger Games while flipping TV channels. That turned out all right for her and might work for you.
Pick two books at random off your shelf at home and see if you could combine the two in some way. If not, pick two other books.
Try the generational/nostalgic method. Look for what was popular 25-30 years ago, and update it. First you have a new audience who wasn't around when the original came out. Second, the older folks in your audience will appreciate the nostalgic trip down memory lane.
Take a song you like (either instrumental or voice), and think of the story that might go along with that song.
Take an interesting picture or image from anywhere (web, your own life, magazines, etc.) and think of the story behind that image.
Take a favorite character from a book or movie, and consider what you enjoy about that character. What if that character was completely different in appearance? For example, if that beloved character was a handsome, young, athletic man, what if you wrote about an older, plump woman with the same abilities and faced with similar conflicts?
Your next story idea is out there. Be open and receptive, and let it find you. Oh, and be sure to send a comment thanking—
Poseidon's Scribe