Perhaps you have a story inside you, but you feel too scared or intimidated or inadequate to believe you could ever write fiction.  Here are some ways to banish those feelings.
First, there are at least three levels of fiction-writing.  (1) These days you can write and publish something yourself without an editor, at near zero cost.  (2) You can get your writing accepted by a publisher, but not make enough money to live on.  (3) You can write fiction as your sole means of support.  I'll limit myself to discussing level (2) today.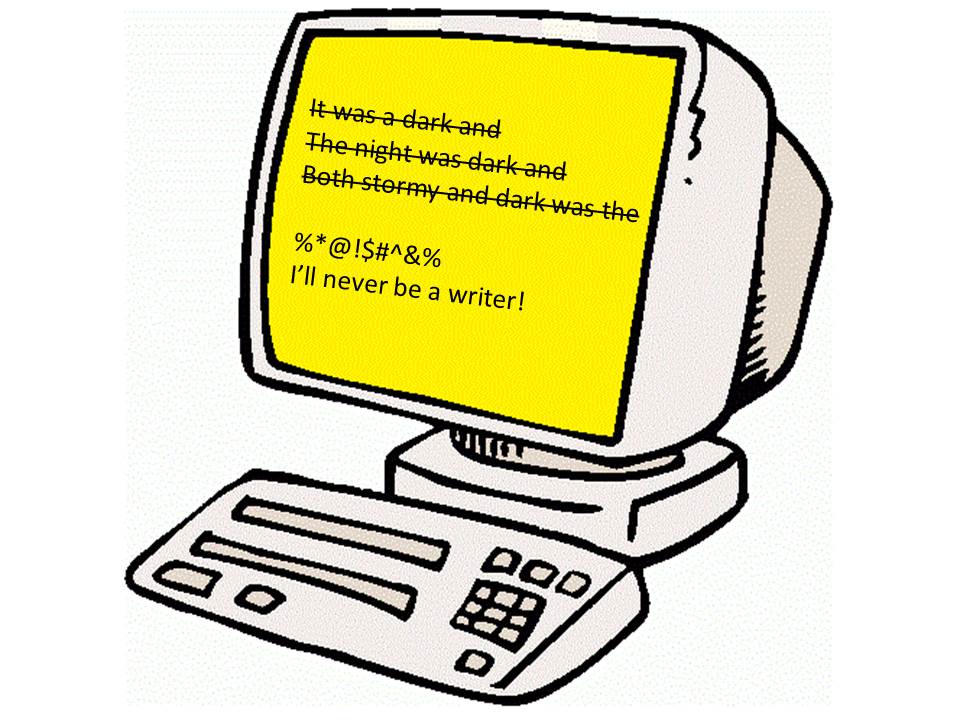 True, some people aren't cut out to be writers at all.  My purpose today is to keep you from cutting yourself out of the running at the start.  Let's look at ways you might think you're not fit to be a writer:
I just know I could never be a writer

.  Where is your resistance to writing coming from?  Do you immediately think "I could never do that" when presented with other opportunities in life?  Maybe this isn't about writing at all, but your general negativity toward trying new activities.  How many amazing human initiatives haven't happened because somebody said, "I could never do that," hmm?

I don't know anything about writing

.  Don't let this stop you.  That's the part you can get help with, through critique groups, writing courses, books about writing, writing conferences, etc.

I'd never write as well as [insert your favorite famous author's name here]

.  Stop comparing yourself to the great authors.  You can't know today how you'll stack up against them one day.  So what if you're not quite as good?  You can still get published and win over some readers.

I'm unknown, and people only read books by known authors

.  Think about it; all published authors started off unknown.  What if your favorite author had talked herself or himself out of writing?

No editor will read my stories because I'm unpublished

.  Not true.  Consider that latching on to a new, undiscovered top talent is every publisher's dream.  All they need is one (you?) to make their career.

Novels seem so hard to write

.  No need to begin with a novel.  Try a novella, a short story, flash fiction.  Do blog posts for a while.

My teacher told me I'd never be a writer

.  Is one long-ago English or Language Arts teacher still in your head criticizing you?  Keep that teacher in your mind, but dedicate yourself to showing how wrong he or she was; sweet revenge will be yours one day.

My story idea seems trite, or already used, etc

.  At this point your idea is just a story concept; it might match hundreds of already-published stories.  Once you flesh it out and write it down, it becomes uniquely yours, different from all others, and possibly publishable.

It takes too long to write a story

.  True, writing takes time.  But, of all the skills and abilities you've developed in life, how many did you master in a day?  Let the strength of your story idea sustain you.  If it's truly grabbed you, you'll persevere until you write it all down.

I couldn't stand being rejected or getting a bad review

.  That does stink, no denying it.  Any creative endeavor requires a thick skin.  Look at editor's rejections as permissions to send your story elsewhere.  As for bad reviews, remember it's far easier to be the critic.  At the worst, the reviewer may actually have a valid point you can use to improve your writing for the next story.
See?  You are good enough to at least try being a writer.  Shake off those negative emotions.  Let your imagination soar.  Allow yourself to try it out.  Someday, when you're a famous author, be sure and give partial credit to—
                                                Poseidon's Scribe