Today I'll introduce you to the four major characters in my new book, "After the Martians." The alternate World War I of my story has brought them together in and near the Black Forest of Western Germany in 1917, some 16 years after the Martians' failed attempt to conquer the Earth.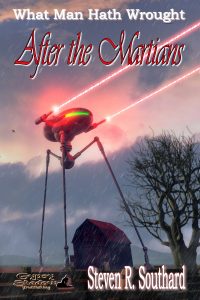 In order of their introduction in the story, let's meet them.
Private Johnny Branch is seventeen, an American from Wyoming. The hero of my story, he's enthusiastic about getting to fight in the war, and thrilled to be driving a Martian fighting machine, a tripod. He grew up listening to, and reading about, the Martian War. Like boys across the nation, he built rudimentary models of the fighting machines and waged little battles with toy tin soldiers, pretending to be Teddy Roosevelt in the Battle for Washington, D.C.
Second Lieutenant Henry Wagner is about twenty-three, and commands the fighting machine driven by Johnny. Their machine is part of Crazyhorse Troop, Tiger Squadron, Third Armored Cavalry Regiment. He's from Norristown, Pennsylvania, near Philadelphia. He's been in the war since the beginning and is now seasoned by battle, and quite skeptical about the war. He looks forward to the end of the war, when people can develop peaceful uses for Martian technology.
Frank Robertson is a photographer for "The American Magazine," initially assigned to send back pictures to give the public a sense of the life of a doughboy. As the war has gone on and casualties have mounted, his editor tells him to snap some shots of American heroism and gallantry in battle, to keep up the patriotic spirit. However, it's hard to get close to the action in a modern war, with Martian heat rays and poisonous black smoke.
Hilde Gottschall is an old German woman living in a wooden cabin on Feldberg Mountain. She lost her husband in the Martian War and her son in the Great War. After the death of her daughter-in-law, she lives alone with her infant grandson, Andreas Gottschall, whom she calls her Schätzchen (darling). She is cynical and angry about all wars.
In addition, there are a couple of minor characters with bit parts, but those four are the major ones. Each of the latter three influence Johnny in various ways as he matures toward full adulthood.
On a separate note, I'm hoping to speak on a panel or two at BALTICON

, the science fiction convention in Baltimore, next weekend. At a minimum, I'll be signing my books on Saturday from 1:30 to 2:30, and I'll be reading from one of my books on Sunday from 7:00 pm to 7:50.
I'll post my complete schedule when it's approved. If you'll be in the area, you can meet, in person—
Poseidon's Scribe