How will you begin your next story?  The beginning, called the 'hook,' is important.  These days readers don't have much time.  Other things like TV, video games, and the Internet compete with your story for their attention.  If your first sentence or paragraph doesn't grab them, they're on to doing something else.
Here are some examples of great hooks used in novels as chosen by the editors of American Book Review:
Call me Ishmael. 

Moby-Dick

, Herman Melville 
Marley was dead, to begin with. 

A Christmas Carol

,  Charles Dickens
It was a bright cold day in April, and the clocks were striking thirteen. 

1984

, George Orwell
You don't know about me without you have read a book by the name of The Adventures of Tom Sawyer; but that ain't no matter. 

Adventures of Huckleberry Finn

, Mark Twain
Someone must have slandered Josef K., for one morning, without having done anything truly wrong, he was arrested. 

The Trial

, Franz Kafka
Mother died today. 

The Stranger

, Albert Camus
There was a boy called Eustace Clarence Scrubb, and he almost deserved it. 

The Voyage of the Dawn Treader

, C.S. Lewis
He was an old man who fished alone in a skiff in the Gulf Stream and he had gone eighty-four days now without taking a fish. 

The Old Man and the Sea

, Ernest Hemingway
It was a pleasure to burn. 

Fahrenheit 451

,  Ray Bradbury
The cold passed reluctantly from the earth, and the retiring fogs revealed an army stretched out on the hills, resting. 

The Red Badge of Courage

, Stephen Crane
These beginnings work well for several reasons.  They give us an early idea what the story will be about.  They establish the tone of the story, and something about the attitude of the narrator's voice.
But most of all they seize our attention and compel us to want to read more.  What gives them this quality?  It's hard to find a common attribute just by looking at them.  They seem to appeal for different reasons.
Writer Darcy Pattison has grouped the different beginnings into categories.  This is helpful since one category might work better for the start of your story than another.  Knowing the category can give you a starting point for developing your hook.
Many of the beginnings in the list start with a sense of the ordinary, and then give the reader something that clashes or is jarring somehow.  We're left with a puzzle, an oddity, a question that can only be resolved by reading further.  So read on we must.
Those without that twist added to the ordinary seem to possess a different quality.  They settle us in, set a mood, fluff up our pillow, put on some appropriate music.  We're now comfortably in the story, transported to the author's world right from the start, and now that we're there we might as well read on to see what the place is like.
Each of these beginnings without exception is easy to read.  None have rare or difficult words to stumble over.  All have rhythm, and almost poetic brevity.  Not a word is wasted.
How do you write an opening like these?  Heck if I know; these are some of the best ever written.  Ask one of the world's greatest authors.
With that task added to your to-do list, perhaps we could set our sights a bit lower for now.  How do you write an effective story beginning?  For one thing, it takes time and many trials.  The beginning is the hardest part to write, usually takes the longest, and usually involves the most revisions.  You might decide to skip the hook and come back to it later as the story evolves.  You might like to write a first version of the hook knowing you'll revisit it over and over.  In any case, be prepared to spend the time and thought to craft it right.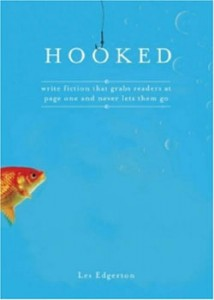 To learn much more about how to write story hooks, read Hooked by Les Edgerton.  What an invaluable resource!
With regard to beginnings, we've reached the end.  Remember to check back at this site next week for further ramblings about writing by–
                                                                 Poseidon's Scribe