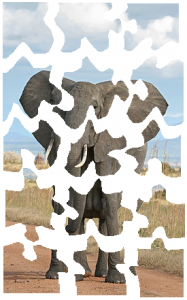 Is it better to write a short story all at once or over a period of several days? Since each method has its advocates, the question is worth examining.
Everyone knows the adage about the proper way to eat an elephant—one bite at a time, meaning you should break down any major endeavor into manageable tasks and patiently accomplish the tasks. How does that apply to short stories? Let's hear from both sides in this furious debate.
Mr. One-Sitting Writer:
Forget about elephants. A short story isn't an elephant. The reasons you must write the first draft of your short story all at once are as follows:
1. You have to capture the mood of the inspiring moment. Enthusiasm is a fleeting thing. When you're in the mood to write, when you're consumed by the power of the idea, that's the time to get it all down. That's when you're most likely to get in the zone when the words flow best. Tomorrow you won't feel the same way. You'll lose the moment forever.
2. Your readers expect consistency throughout your story. They want a constant tone or mood. The best way to achieve that is to write the first draft all at once. Readers will sense when you haven't done that and it will lessen their enjoyment of the story and lessen your chance of future sales.
3. There's a certain romance in staying up late at night and into the morning to type at the computer or scribble on paper. Didn't all great writers do this? Aren't all the best stories fueled by nocturnal spirits conjured from the wisps of steaming coffee cups? In that final surge of energy when you type "The End," compose your e-mail, and hit Send with thirteen seconds to go before the deadline, you know you're completely spent, and you are channeling the spirits of the best authors of all time.
Ms. Bite-at-a-Time Writer:
I notice Mr. One-Sitting Writer didn't talk much about how he performed at his day job the next morning. Maybe writing is his day-job and he can afford to sleep late and rest up for his next bout of binge-writing.
Those of us in the real world have lives. We have responsibilities other than writing. We have jobs and families, appointments and duties. We love writing as much as he does, but we have to fit it into the nooks, squeeze it into the crannies of time we can spare.
He made three numbered points; I'll do the same:
1. I agree it's best to write a story when you're wrapped up in the enthusiasm of the idea. If the story is short enough, and if your schedule allows enough time, by all means write the first draft in one sitting to preserve the tone and feel throughout the story.
2. If you can't do that, then here are a couple of tricks to try:
a. Stop for the night in the middle of a sentence, a sentence for which you know how it should end. You'll remember that tomorrow and be able to pick right up from there.
b. At the start of your allotted writing time for the day, review the last few pages you wrote. That will help you recapture the mood so you can continue in the same vein.
3. The romance of staying up late to write? Please. I did that a few times in college to finish assignments on time, but it was never my best work. Plus, I'm not as young as I was then.
As for me, Poseidon's Scribe, I work like Ms. Bite-at-a-Time Writer, but wish I had the time to work like Mr. One-Sitting Writer.   You'll have to take your pick based on your circumstances and what works for you. That's today's discussion on elephant-eating by—
                                                Poseidon's Scribe