Your wait is over! My book "After the Martians" is now available. No more gritting your teeth, drumming your fingers, or watching the clock tick the hours away. Even as you read this, you could be surfing over to Amazon or Smashwords and purchasing your own copy.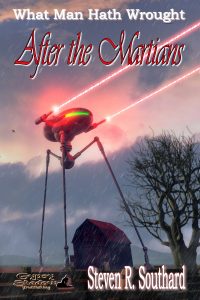 Not a bad idea. Stop reading this blog right now and buy the book.
Still reading this? Not yet sure you want to buy? Need a sense of what you'll be getting first? Okay, here's the short marketing pitch I use for press releases:
It's an alternate World War I, with Martian weapons. Young Johnny Branch seeks military adventure, but a new and different uprising needs a hero.
This is your chance to be the first among your friends, family, and fellow members of your book club to read the latest book in the What Man Hath Wrought series. Download "After the Martians" to your electronic reader and let me know what you think of it.
Go ahead. I'll just sit here gritting my teeth, drumming my fingers, and watching the clock tick the hours away until you submit your impressions about the book as a comment to this blog post. Your wait may be over, but it's just beginning for—
Poseidon's Scribe