Many people believe you aren't just stuck with the way you are now, that you can better yourself by persistent act of will.  I'm one of them, but let me just focus on self-help as it applies to the writing of fiction.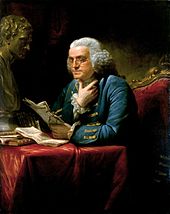 Benjamin Franklin was an early example of someone who developed a program of self-improvement.  His method was to list thirteen virtues along with a brief description, then he would set about to focus on one virtue per week.  Franklin actually kept a log of this, giving himself a black mark on days he fell short.  Presumably, by focusing on one virtue at a time, it did not mean he was abandoning the others during that week.
Examples of his virtues include:
1. Temperance.  Eat not to dullness; drink not to elevation.
4. Resolution.  Resolve to perform what you ought; perform without fail what you resolve.
In the spirit of Benjamin Franklin's list of virtues, I'll offer some virtues of writing fiction.  I've grouped them into 'process' virtues dealing with how you write, and 'product' virtues dealing with aspects of the manuscript itself.
The Poseidon's Scribe 15 Virtues of Fiction Writing
Process Virtues
1.  Productivity.  Fill hours with writing, not researching or time-wasting activity.
2.  Focus.  Turn off your inner editor during the first draft.
3.  Humility.  Seek other trusted people to critique your work; be receptive.
4.  Excellence.  Only submit work you're proud of.
5.  Doggedness.  Be persistent in submitting to markets; be unshaken by rejections.
Product Virtues.
6.  Relevance.  Ensure your work passes the 'So What?' test.
7.  Appeal.  Hook readers from the first paragraph.
8.  Engagement.  Put your characters in conflict with something or someone; make the story about conflict resolution.
9.  Empathy.  Create vivid, engaging characters.
10.  Action.  Weave logical, interesting plots with appropriate causes and effects.
11.  Placement.  Provide clear but unobtrusive descriptions of the story setting, without overshadowing character or plot.
12.  Meaning.  Ensure your story's theme explores eternal human truths.
13.  Style. Seek your own voice, then follow it.
14.  Communication.  Ensure your characters' dialogue is appropriate and advances the plot.  (Mentioned here, here, and here.)
15.  Skill.  Salt your tales with symbolism and appropriate metaphors.
Your list would likely be different.  One way to go about it is to examine critiques of your fiction you receive from members of your critique group, from editors, etc.  Are there repeated criticisms?  Turn them around and express them as a positive affirmation or goal, not as a negative to avoid.  Those goals represent things to work on, and would be on your own list of virtues.
George Carlin fans would likely point out to me that there's no such thing as self-help.  People who get their list of virtues from their critique group, or from this blog post, aren't exactly engaged in self-help, since they got help from others.  Moreover, if beginning writers truly helped themselves get better, then they didn't need help.  Witty gags aside, it can be a comfort to a struggling writer that there exist methods for improvement, but all I offer is a framework for starting; the writer must shoulder the burden of actually doing the work to improve her writing.
I'd love to hear if you've found my list useful, or if you've developed your own list, or even if you've embarked on a completely different method of improving your writing.  Let me know in your comments to this blog entry.  For now, back to improving his writing goes—
                                                            Poseidon's Scribe