There's just no way to believe this–they're giving away copies of a valuable, new anthology. I worked hard to get a story in there, and now someone's just offering it up for free?
Here's the deal: check out Goodreads between now and November 11th, and sign up for the giveaway. You might win, and they'll send you a copy without any fuss at all, without you laying down so much as one thin dime. There's no justice in the world, no justice at all.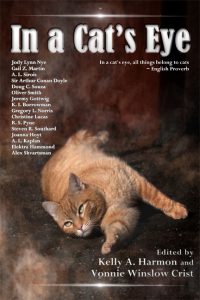 Here's the enticing book blurb:
Egyptian cats. Victorian cats. Space Cats. Cat stories in pre-history Mexico, grim magical worlds, during the zombie apocalypse, and a typical neighborhood give a glimpse into the mysterious lives of felines. And each cat, whether friend or fiend, believes in this truth: In a Cat's Eye, all things belong to cats.
Cat-lovers and readers of science fiction, fantasy, mystery and horror will find a tale to sink their claws into from an international roster of authors.
Featuring fiction from Jody Lynn Nye, Gail Z. Martin, A.L. Sirois, Sir Arthur Conan Doyle, Doug C. Souza, Oliver Smith, Jeremy M. Gottwig, K.L. Borrowman, Gregory Norris, Christine Lucas, R.S. Pyne, Steven R. Southard, Joanna Hoyt, Elektra Hammond, A.L. Kaplan, and Alex Shvartsman.
In a Cat's Eye is purr-fect reading for a dark night–just beware of paws on the stairs.
That mention of "space cats" might be a reference to my story, "The Cats of Nerio-3."
Anyway, you're wasting time reading this post when you should be surfing to Goodreads to enter the book giveaway. Go there now. Win the book. There will be plenty of time later for you to thank—
Poseidon's Scribe