Was ever a part of speech more maligned than adverbs?  Go ahead–search the Web for a kind treatment of them.  More often you'll find admonitions to hunt them down and kill them where they stand.  Is that nice?  What have adverbs ever done to you?
Adverbs are those words most often ending in 'ly,' that modify verbs and adjectives.  They often answer a 'how?' or 'to what extent?' question with respect to their attached verb or adjective.  How did he run?  Rapidly.  How did she speak?  Quietly.  To what extent was the room decorated?  An outrageously decorated room.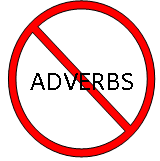 What's so wrong about modifying verbs and adjectives?  Why do most writing books and websites advise writers to banish adverbs?  First, remember the basic structure of an English sentence–subject, verb, and object.  The verb is where the action is, the real power and punch of any sentence.  Over time, English has become rich in verbs, overflowing with them (by one count over 9000).  In odd cases when the right verb doesn't exist, we sometimes take a noun and verbize it.
With all these verbs to choose from, why not select the one with the precise intended meaning and use that?  If a writer does that, her verb won't require modifying by any adverb at all.  Sometimes writers get lazy, though, and choose weak verbs, then try strengthening them with adverbs.  Sometimes an even lazier writer adds an adverb that, well, adds nothing.  Tom crept slowly.  Um, how else would he creep?
Another knock against adverbs ties in with the 'show, don't tell,' advice.  Adverbs tell us about the verb, but instead the writer could bring the sentence alive with a short clause showing us 'how' or 'to what extent.'  Tom crept with snail-speed so he wouldn't set off the motion detector. 
Against these damning criticisms, how can I dare to defend the adverb?  First, an occasional well-chosen adverb can help a sentence.  'Slowly' is an example of one I find useful, but not for modifying verbs that already imply slowness.
Second, I'm mindful that adverbs haven't always been denigrated. I'm not sure when they fell out of fashion, but many nineteenth century authors peppered their works with adverbs.  Perhaps the ban on adverbs is just a fad.  They might come back in style.  Some brave author could craft a well-written novel chock full of them and see it become a bestseller.  Others would then copy that author's technique, and everyone will wonder how we got along without adverbs.
You could be that trail-blazing author, but if I were you I'd leave that to the literary types.  In the meantime, if you want your works to sell in today's markets, I advocate using adverbs in a sparing manner, no more than one per page.  When you edit, search for those 'ly' words.  When you find one, consider choosing a stronger, more precise verb.  If there is none, consider adding a short clause or new sentence expressing your point in a vivid manner with nouns and verbs alone.
As always, feel free to comment.  Until you do I'll sit here being, most patiently and expectantly,
                                                                       Poseidon's Scribe