That's not a typo; I'm questioning whether the first draft of your story is horrible, trashy, and amateurish enough to qualify as a first draft.  I'm not talking about cacography here, I'm talking about tripe, drivel, bunkum.
Yes, I know all writers are different and for some, their first draft is their publishable, final draft.  Isaac Asimov said he didn't re-write his stories.  But I'm guessing that doesn't work for most writers, especially beginning writers.
For most of you, here's my advice:  set out to write a bad first draft.  Why?  I'll explain.
The first draft is unlike all later ones in that it has no predecessor, just a blank screen (or page) and a writer's mind buzzing with ideas.  That moment before you write the first word is a daunting one; the task seems mountainous.  Often that story idea in your head seems so perfect, you just know readers will love it.
But when you try writing down that idea, it looks so awful it's embarrassing.  The text falls far short of the shining, crystalline structure in your mind.  You can get so frustrated you'll be tempted to abandon the whole stupid idea.  "What was I thinking?  I'm no writer!"
I'm suggesting it's best to admit up front your first draft will be garbage.  That way you're establishing reasonable expectations and lessening the frustration.  Trust in your ability to improve the first draft later.  Accept that those later revisions will be easier than writing the first draft; you will get closer to the ideal story in your mind.
How do you write a first draft that qualifies as pure dreck?  Think of your writing mind as having at least four component parts, four people with distinct attributes.  These are your muse, your playful inner child, your squint-eyed editor, and your glad-handing marketer.
I've described the muse before.  By the time you're writing your first draft, her job is done and she's left town.  Think of your squinty-eyed editor as a scowling old man with an eyeshade and a huge supply of blue pencils.  Send this editor on vacation now.  Trust me, he'll come back well-rested to help you with your second draft.  As to that ever-smiling, extroverted marketer with the plaid suit, he's on vacation most of the time and that's okay for now.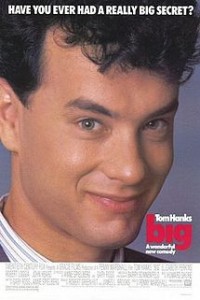 Let's focus on the one I left out, the playful inner child.  I suggest you picture the character Josh Baskin, played by Tom Hanks in the 1988 movie "Big."  He was pure drive, energy, and enthusiasm.  He had no inhibitions, no taboos, and no fear of failure.
Channel that character as you write your first draft.  Strive to get in the zone, in the flow.  If you find yourself momentarily stuck, write down what you will need later to get past the sticky part, put that in brackets (or different font or color, whatever), and move on.  For example, knowing how important the opening hook is, let's say you can't think of one.  Just write "[come up with hook]" and write on.  Chances are the words you write next might serve as a hook, or a hook will occur to you later.  Don't stop to do research now, just bracket it, "[Do whales really get hiccups?]," and look it up later.
Even though your first draft is a stinking pile of compost, you'll feel better about having something written down, something you can now work with.  Further, by writing in burst mode, you can maintain a consistent, integrated work that maintains the same tone and voice throughout.
More great first draft advice is available here, here, and here.  By the way, do you think this blog post is poorly written?  Ha!  You should have seen the first draft typed up by—
                                                     Poseidon's Scribe