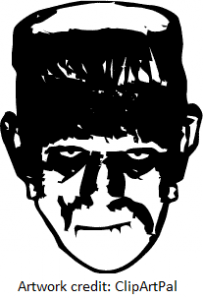 In what way are all fiction writers like Dr. Frankenstein?  Answer:  we're all creating life.  Mary Shelley's famous character is a better metaphor for my purposes than the phrase "playing God," because, like the Transylvanian experimenter, we have models to copy from — all the people we see and meet.
The problem is, as Dr. Frankenstein found out, creating life is difficult.  Some writers are better at giving readers a vivid mental picture of their characters than others.  What are the factors involved in creating believable, memorable characters?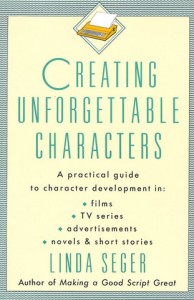 Linda Seger answers that question well in her book Creating Unforgettable Characters, which I recommend.  Her technique for coming up with great characters is to (1) research the character, (2) create a backstory, (3) understand the character's psychology, (4) create character relationships, and (5) develop the character's dialogue voice.  The book also contains great advice regarding the development of supporting characters, nonrealistic characters, the use of stereotype, and how to solve the character problems you may experience as a writer.
Back in the 1800s, authors could furnish long descriptions of their characters, giving readers all the necessary details for understanding them.  Readers stopped putting up with that many decades ago.  Writers had to learn to imbed snatches of character descriptions into the action and dialogue as seamlessly as possible.  No more "time-outs" from the plot to devote a few paragraphs to the heroine's matching dress and parasol.
Then writers found a technique for describing their main character's physical appearance while remaining in that character's point of view.  Simply have the character stare at a mirror or other reflective surface.  Sorry, modern writers don't get to do that either; it's been way too overused.
Complicating matters more, short story writers just don't have enough space in the story for complete, well-drawn character descriptions.  A short story writer must create a memorable, identifiable main character using very few words or details and not slow down the plot while doing so.  There just isn't the leisure of space for full character development in short fiction.
That's why many writers turn to stereotypical or "stock" characters.  Not much description is necessary for these characters, since the reader will fill in the rest.  The problems here are: modern readers are offended by negative stereotypes, and use of stereotypes marks the writer as lazy and uncreative.  It is okay to use a stock character if you give her at least one aspect running counter to the stereotype.  That makes her more human and interesting.
So far this blog post reads like a list of "don't-do's" without giving much positive advice.  Therefore, here's a list of do's:
Make your plot and main character fit together such that only that character could have starred in that story.  It doesn't matter which you think of first–plot or character–just ensure they fit.  Your story's plot will become your protagonist's private hell, so ensure it's the specific corner of Hell your character fears most.
Get to know your major characters.  Develop a brief biography.  Put more in the bio than you'll ever write in the story.  The bio should include elements (2) through (5) in Linda Seger's list above.
Ensure the main characters in your story are distinctive and obviously different from each other in as many ways as possible.  You don't want to confuse your readers.
Ensure your protagonist has some measure of the Everyman about him, so readers will identify with him and care what happens to him.
I'll have more to say on creating characters in future blog posts.  It's a major aspect of writing, of course.  In the meantime, (Bwaaa-ha-haaa!) it's back to the laboratory for–
Poseidon's Scribe