Every writer tells you to purge clichés from your prose (and I will too), but then those same writers go ahead and use clichés in their own books.  Sadly, I have too.  That's not due to intentional hypocrisy; it's just that the nasty critters are so darn hard to eradicate.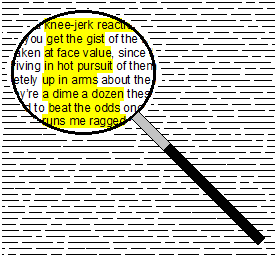 What's a cliché?  It's an overused expression or phrase.  Before becoming a cliché, the short collection of words started out being clever.  The original author discovered a compact, understandable, shorthand way of stating an idea.  The trouble began when others liked the phrase and repeated it.  Over and over.  Eventually readers got sick of it.  The expression lost its freshness and became annoying.
Apologies up front—I have used some clichés in this very blog post.  Again, it's just because the infernal vermin can be difficult to spot and exterminate.
You can understand why it's unwise to use too many clichés in your writing.  They mark the work of an unimaginative and lazy amateur.  Such writers just go for the easy, readily-available, (and perfectly apt) phrase instead of thinking deeper about fresh, new ways to express the same thought.  The prose comes across as tired, hackneyed, trite, and stale.
Your first draft may contain clichés by the bushel-full.  That's because you were writing at full speed to get the basic thoughts down, knowing you would come back later.  At that fast pace, you're more likely to grab the convenient phrase that comes to mind, the combination of words you've heard a hundred times—the cliché.  Make a point of hunting for them as you edit and proofread your later drafts.
The best place for spotting clichés is in descriptive passages, where you tried making a comparison between some object or situation in your story to a more real-world example familiar to the reader.  Many, many clichés are of that type, handy for relating one 'thing' to another in a few, image-enhancing words.
How do you know if you've written a cliché?  There are lists of clichés online, but by definition clichés are always being created and a few get forgotten through lack of use, so the real list is dynamic.
If you find one in your prose, what do you do?  Probably the easiest thing is to delete it and substitute some non-cliché that conveys the same meaning.  A more creative alternative is to give the cliché a clever twist, especially one that delivers your message even more exactly than the cliché would have.  Consider the twist imparted to the cliché 'passing the buck' by President Truman when he posted a sign on his desk reading, 'The buck stops here.'  Of course, that saying became famous enough and repeated enough to become a cliché itself.
When is it okay to use a cliché?  I'd say it's more acceptable in dialogue, since that's the way people speak.  You can also use them in book or chapter titles, but make sure they fit and are appropriate to the book or chapter text.
At the end of the day (cliché), when all is said and done (cliché), you've got the gist (cliché) of clichés and been put in the know (cliché) by—
                                                Poseidon's Scribe