Hoisted by their own petard? The very science that science fiction readers adore has now declared them idiots.
Or has it?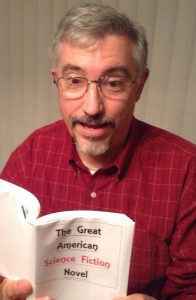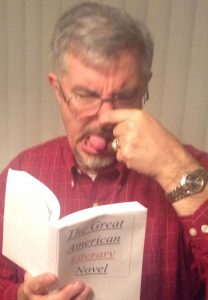 Some accounts of a recent scientific study are concluding that reading SF makes people stupid. Researchers Chris Gavaler and Dan Johnson of Washington and Lee University set out to challenge the results of an earlier 2013 study suggesting literary fiction makes readers smarter. These researchers believed whatever was going on in the earlier study had nothing to do with genre, and hoped to prove it.
It might help to know some terms used in the recent study:
Theory of Mind (ToM)—the text doesn't tell readers what a character is feeling or thinking, so they must infer those things.
Theory of World (ToW)—the text doesn't tell readers about the world of the story (physical laws, social norms, etc.), so they must infer those things.
Initially, Gavaler and Johnson suspected ToM would be the same in any genre, but ToW would be more challenging in SF, since the worlds of those stories are so different from our own. Things didn't work out that way.
They asked 150 randomly selected readers to read a 1000-word short story. Each read one of four versions of the same story:
Text 1: set in a small town diner. Character's thoughts and feelings inferred.
Text 2: set in a space station cafeteria. Character's thoughts and feelings inferred.
Text 3: small town diner. Thoughts and feelings stated.
Text 4: space station. Thoughts and feelings stated.
Study participants answered questions posed by the researchers. From these answers, the researchers concluded, "Converting the text's world to science fiction dramatically reduced perceptions of literary quality." "Science fiction readers reported exerting greater effort to understand the world of the story, but less effort to understand the minds of the characters. Science fiction readers scored lower in comprehension, generally, and in the subcategories of theory of mind, world, and plot."
According to the study, the SF story readers "appear to have expected an overall simpler story to comprehend, an expectation that overrode the actual qualities of the story itself…the science fiction setting triggered poorer overall reading."
What should we make of this? Are readers of literary fiction smarter than readers of SF? Does reading SF make you stupid?
Perhaps the study was flawed. Were the participants truly random? Did the texts bias readers against SF? Were the post-reading questions biased in some way?
For the moment, let's assume the study results are true. They imply the public regards SF as a lowbrow genre in comparison to literary works. There's a valid reason people believe that. Many early SF stories and a lot of SF movies and TV shows were not high quality. In the early years, not many authors were writing science fiction, but the demand for stories was large, and readers weren't as sophisticated or discerning as they are now. Science fiction fans of the time focused on settings—the weirder and more outlandish the better—not characters.
Given that history, it's unsurprising that the public views SF as an uncultured mass-market genre for philistines, despite a huge advancement in the quality of writing in recent decades
Another factor is relevance to the reader's life. Of the sample texts provided in the study, a reader is far more likely to relate to the scene in the small-town diner than the one in the alien-populated space station. Because of that, the public views science fiction as escapist in nature. SF writers strive to say something relevant about the human experience. Despite that, readers will always feel more distant from SF characters than they do from characters in contemporary literary fiction.
In my view, the study didn't prove science fiction is for dummies, let alone that it makes people dummies. It showed people are different from each other; that's why so many genres exist. As science fiction improves in quality, it will delight more readers. Delighting readers, and helping to make them smarter, is the main mission of—
Poseidon's Scribe
Please follow and like me: