How should you, as an author, deal with negative reviews?  You're going to get them, so you might as well prepare now.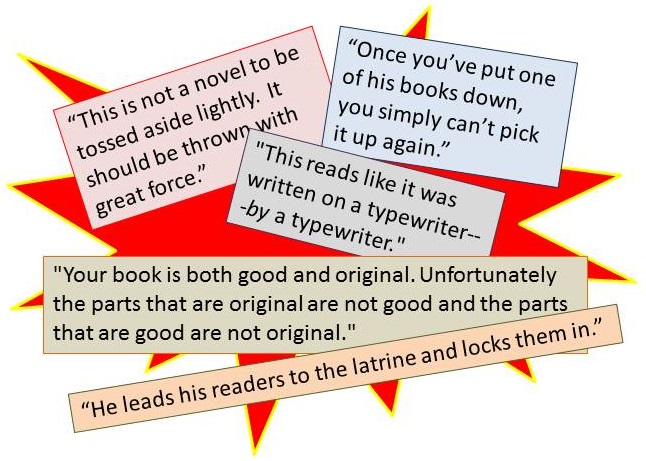 Nobody calls actual babies ugly, not to the Mom's face anyway, but people will describe your novel or short story with some pretty ugly words.  Those words sure can sting, too.  After all, just as with real babies, writing is an act of creating something new from almost nothing, something that takes considerable effort and time, and you're putting your creation out there for the world to see, unsure of what people will think.
Well, you soon find out that some people think your 'baby' is ugly. What to do?  Options include:
1.  Giving up this writing thing, and slink away to a hole where no one can see you or hurt you ever again.
2.  Lashing out at the reviewer, and maybe starting an online flame war to prove to the world your novel was prose perfection while the reviewer was an ignorant, unsophisticated numbskull.
3.  Ignoring the reviewer so you can keep on writing as you have been, since the reviewer obviously didn't 'get it' and you can't waste your time on idiots.
I'm not going to recommend you do any of those things, however much you will want to.  My advice is to move as quickly as you can through the first four of Kübler-Ross' Five Stages of Grief—denial, anger, bargaining, and depression.  Get to the last stage, acceptance, as soon as possible.
No matter how poorly written the review, no matter how uninformed the reviewer seems, it's just possible there's a kernel of truth in the review.  No matter how you try to deny it, that reviewer has a point.
But it's a point you can use to improve future stories. Whatever flaw the reviewer noted, you should strive to avoid repeating that problem again.  In the long run, you might even find that reviewer did you a favor.
Authors Joanna Penn and Rainy Kaye have posted some excellent advice on contending with unfavorable reviews.
The writer's version of having your baby called ugly isn't nearly as bad as having an ugly real baby.  Then again, sometimes ugly babies grow into good looking adults, whereas stories always stay the same.  Unless you revise your story.  Who picked this stupid 'baby' analogy anyway? Oh, yeah, it was—
                                                        Poseidon's Scribe