When you've had a few stories published, you may be asked to speak at a conference.  It may be a chance to speak alone about a topic, to speak on a panel, or to read some samples of your writing.
I've had that honor twice.  In February 2010, I read a portion of my story "Within Victorian Mists" to an audience at the Crossroads Writing Conference in Macon, GA.  I was with a group of other steampunk writers (Emilie P. Bush, Kathryn Hinds, Alexander White, Lainey Welsch, Dwayne DeBardelaben, and Austin Sirkin), and here's a picture from that event.  In November 2011, I served on a panel with some steampunk experts (Mark P. Donnelly, Elektra Hammond, and Kevin Houghton) at the DarkoverCon in Timonium, MD.
For both conference speaker and conference attender, there are likely to be some unmet expectations.  I fear that conference attenders who hope to be authors someday think they will learn the hidden secrets of great writing and be handed the golden keys to fortune and fame.  In some cases, conference speakers may expect to earn flocks of new fans, all captivated by the speaker's charm or wit and eager to part with their cash in exchange for the author's books.
So if you're the writer who's given a chance to speak, what should you expect?  Perhaps one or more audience members will feel moved to purchase something on the spot.  Others may think about it and investigate your presence online later, before deciding to buy and read one of your books.
Those attending your panel, or lecture, or reading, must lower their expectations as well.  After all, it's not like you have surplus fortune-and-fame keys to hand out.  The most they'll receive are a few nuggets of wisdom about becoming an author, or reminders and reinforcements of previously learned knowledge.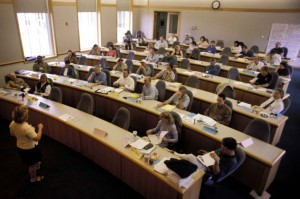 As the speaker, then, your purposes are clear.  (1) Present yourself as an engaging, interesting personality.  (2) Convey some useable advice or recommendations about getting published. (3) Inform the audience about your books without being pushy.  In this way both speaker and audience can leave knowing they've received something of value.
Trouble is, the skills you developed while becoming a published author differ from those needed for speaking at a conference.  Public speaking scares most people at first, and only practice and experience lessen that fear.
If you're the sole speaker during your session, I suggest you come prepared with an outline, so your talk doesn't ramble.  Remember too, even a lecture is an interactive event, never the same twice.  Watch your audience members for their body language and facial reactions; you'll know when you've said something controversial or provocative, etc.  Be gracious and attentive during the question-and-answer period.
When serving on a discussion panel, now group dynamics enter the picture.  Don't monopolize the panel; that turns audiences off.  Don't sit there saying little; you won't entice future readers that way either.  If you must disagree with another panelist, do so with respect and consideration.  Never get drawn into an argument; that runs counter to your purposes.
If reading from one of your stories, select an engaging passage.  Project your voice.  Enunciate your words.  Modulate as you speak, stressing for emphasis and altering your timbre or accent for different characters in dialogue.
Was this advice helpful?  Let me know with a comment.  Remember, readers love to meet and engage with authors, especially those they find intriguing.  So get out there and be intriguing.  Soon you'll be winning fans, including–
                                                         Poseidon's Scribe