I've written quite a bit about my muse–that creative alter ego of mine–but I've not written much about yours.  You might be protesting, "But, Steve, I don't have a muse.  I'm not a creative person."  Well, it's my contention that we all were born creative and that many of us taught ourselves to be uncreative over time.  However, we can teach ourselves to be creative again, regain the lost skill, and recover the abandoned muse.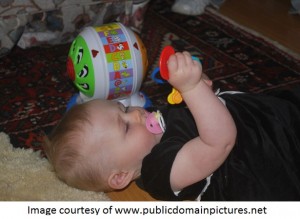 Were we really all born creative?  Certainly we were born curious, and curiosity is an essential element of creativity.  When you watch a wide-awake baby who is by herself and not engaged with anybody else, that baby is looking around, curious about her environment.  She will make every effort to interact with it, to learn about it. She'll reach and touch things, put things in her mouth, etc.  The interesting part is, she's doing all this with a bold attitude and no fear of failure.  She will try anything.
Somewhere along the growing process, many of us learn to stop behaving that way.  We get burned by the environment too many times, or scolded or teased by others; we become afraid to try new and different things, instead preferring the safety of the commonplace and conventional.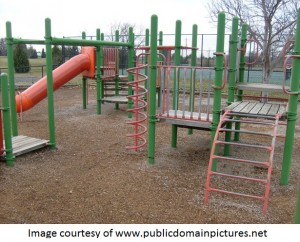 Given such an ingrained lifetime pattern of avoiding creative thought, how can we get back to the bold, fearless approach we once had?  There is one place we can be curious and creative without getting burned by anyone or anything, and that's our mind.  In the mind's playground we can try anything, explore anything, see anything from any vantage, and no one will criticize us; nothing will hurt us.
One technique for building creativity makes use of this mental playground.  I learned this from my father many years ago.  He said when you have a problem, and when you have alone-time on your hands, (such as when you're doing a drudgery task like driving or mowing the lawn or cleaning or doing laundry), you can try this method.  Just think of twenty possible solutions to the problem.  Don't stop until you get to twenty.  Here's the fun part–the solutions don't have to be practical, or possible.  Each solution should be related in some way to the problem, but you are not allowed to self-criticize the solutions or reject them for being impossible or bizarre.  You're not writing them down; this is all being done in your head.
You might be asking, "What's the point of coming up with twenty solutions that won't work?"  The point is that such creative play where there is freedom to imagine without fear will often generate a dumb solution that sparks a subsequent smart one, even an ingenious one.
Another way to build creativity is with the use of mind maps.  I'll discuss that in a future blog post.
There are many more techniques you can use.  This site explains ways to solve problems by creating "distance" from the problem in either space or time.  This site provides sixteen specific methods, many of which involve shifting mental gears.  A new environment can stimulate a fresh idea.  This site gives you a list of ten creativity-building approaches that are a bit more general.
There's an obvious parallel here with the problems of losing weight or becoming more fit. The only effective way to do those things is some combination of exercise and better diet.  The only way to regain lost creativity is to exercise it (through some of the techniques) and feed it a better diet (of stimulating environments as mentioned in the rest of the techniques).
Go ahead and try some of these methods. You're more creative than you realize. That inquisitive child remains inside. Let it roam free in the playground of your mind.  Your long-abandoned muse will return. That's a solid guarantee, provided by–
                                                                     Poseidon's Scribe