In 1989, author Stephen Covey came out with his best-selling book, The Seven Habits of Highly Effective People.  I'm a sucker for self-improvement books and found Covey's book inspiring and practical. At the risk of insulting the late Stephen Covey, I'll dare to suggest seven habits of highly effective fiction writers.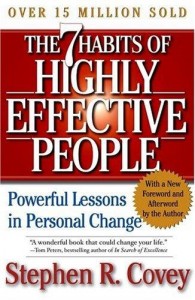 Covey presented his seven habits in a logical order, with a nice, organic structure. His phrased his habits—aimed at helping people live better lives—as brief directives, but took about a chapter to explain each one. They included such things as "Be proactive," "Begin with the end in mind," and others.
In a similar manner, my suggested habits have a rough order to them, but are not as neatly structured as Covey's. My habits do not parallel Covey's, but they do consist of brief directive statements which require some explanation. Here they are:
Listen to your inner storyteller

. First and most important, you're a writer because you have story to tell, because you can't imagine not writing. Keep that inner spark always burning; it will sustain you through the difficult times.

Form the discipline of writing

. Sometimes your inner storyteller doesn't yell loud enough, and the rest of life's obligations close in. If you're to be a writer, you still need to write, write, write. There is no substitute for time spent with butt in chair and fingers on keyboard.

Get help with the craft

. Seek all kinds of help. Study English again. Develop your vocabulary. Read about writing. Read the classics. Attend writing classes and conferences. Join a critique group.

Follow your muse

. As you write more, you'll think of characters, plots, and settings during odd, idle moments when you're not writing. That's your unconscious, creative voice—your muse—talking. Pay attention. Though she may lead you to unimagined and uncomfortable places, she might help you develop your unique writing voice.

Submit your best

. Don't rely on editors to see the genius of your story through all the spelling, grammatical, and plot errors. Do a thorough job of self-editing, thinking critically, viewing your manuscript as a reader and English teacher might. Submit only when you can honestly say it's your best product and you're proud of it.

Be a professional

. Present yourself to the world as if you're already a successful author. Establish an author website. Don't get so angry at editors, reviewers, blog commenters, or readers that you descend into flame wars, emotional outbursts, or other unprofessional conduct.

Actively seek improvement

. This may sound like number 3 above, but that earlier habit is about the initial learning of fiction writing; this one is about continual development, honing, and advancement of your craft. It means to cycle through all the habits as you go, improving known weak areas, always working to ensure your next story is better than all the previous ones.
Long-time followers of my blog will recall my post proposing 15 writing virtues. The seven habits I'm advocating today are another approach. It's easier to remember 7 things than 15 anyway, right? There are many paths to self-improvement, and you're free to find your own. For now, it's back to growing and improving for—
Poseidon's Scribe
Please follow and like me: