How well do you know yourself? I came across a wonderful post on this topic by Joanna Penn, guest-posting on WritetoDone. I'd like to take her basic idea in a different direction.
As Joanna said, the phrase "Know Thyself" has an ancient lineage, going back at least to the Temple of Apollo at Delphi in ancient Greece, but possibly further back to ancient Egypt. It has various interpretations, but for today, I'll take it to mean that wisdom begins by looking inside.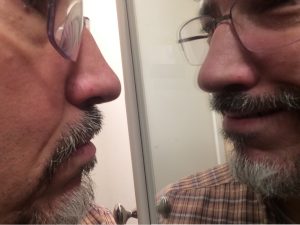 If you aim to be a writer, able to write convincing tales about characters who are unlike yourself, you must first understand the person from whom these characters will spring.
Why? It's the filters.
Let me explain. So far in life, you've observed the real world and many people for several years. In your mind, you have a model of that world and those people, but it's not a perfect model. It doesn't match the real world exactly.
Every sensation of the world has to pass through a filter in your mind, a filter you built over time based on your experiences. It consists of your stereotypes, biases, personality, political views, gender, education, occupation, etc. The filter through which you see the world is your unique perspective based on who you really are, and it is distorting the view you see.
If you write a book, you're writing through that filter about a world you see and characters you see. Once published, the book is out there, part of the real world for readers to enjoy. When a reader reads your book, she understands and interprets it through her own mental filter.
It's possible that, despite all this filtering, many readers will enjoy your book and you'll earn lots of money. If so, it will be in part because your words reached through the filters and entertained readers.
It's wise, therefore, to take an introspective look at your own filter, to study it with as much objectivity as you can. Who is this person who wants to be a writer, who would write words describing people and who would comment on the human condition? In short, who are you?
Joanna Penn's blog post makes some great observations about attributes that most writers have in common. But I think it's just as important for you to understand the specific attributes unique to you.
How do you do that? You could take a few days off, get away from the world as best you can, and write down what you know about yourself. You could take a personality test, such as the Myers-Briggs Type Indicator, the Five Factor Model, or some other measure.
If you do this, I'm certain you'll find many of the attributes Joanna Penn listed will be true for you (a loner seeking recognition; one who's scared, doubtful, and creative; one who believes in finishing projects and striving to improve; one who knows the dark side of life).
You'll find out much more than that, things that make you feel proud to be you and things you wish weren't true. You will see facets of yourself that are average and facets that are far from the norm.
This project of learning about yourself can benefit you and your writing in several ways:
You may find things about yourself you'd like to improve;
You'll know about those parts of you that are unusual, and realize that connecting with readers may take an extra effort;
You'll understand that your characters have personality filters too, and by writing about the world of your story as well as the thoughts of a character, you are revealing something about that character's filters.
Good luck! And now, excuse me, it's time for me to get to know—
Poseidon's Scribe
Please follow and like me: