Long-term readers of this blog will recall I've written about writer's block before, both here and here. I divided the difficulty into two types, major and minor. I've discussed the symptoms of both types but only discussed the cures for minor writer's block.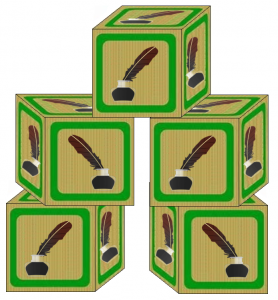 Today, I'll delve into major writer's block (MajWB) and its cures. I define MajWB as the state of being unable to start writing a new work, a condition of long duration. It can last for years and can end a writer's career.
I've never suffered from it, and hope I never do. It must be especially devastating to those for whom writing is their primary source of income. One thing we can rule out in discussing MajWB is the current work in progress; it's not a matter of being stuck in a plot hole, or being dissatisfied with certain characters. MajWB is the state of not being able to perform any creative writing whatsoever.
With Minor Writer's Block, I considered that the block was most likely a symptom of something else, an effect. To resume writing, the blocked writer should work on the cause.
Although the causes of Minor Writer's Block can be large or small, the root of MajWB can only be large. Nothing but a significant event or condition can cause you to be unable to write.
If we assume a writer has MajWB, then presumably there was a time when he or she was writing, and then a later time when not writing. In between, something happened; some significant change occurred. These changes include:
A major illness or disease
Major depression
An ended relationship, whether by death or other cause
Financial straits
A feeling of failure
A feeling of inferiority in comparison with previous success
Whichever of these it is, it must be addressed, not the inability to write. The writer needs to examine what it is about the cause that is resulting in a block. I have no magic pill here, no universal cure-all. Each of these causes will be different, as will the writers involved.
Some authors may be able to resume writing by remembering why they became a writer in the first place, and returning to that frame of mind. Others may find it useful to use the event causing the block as an inspiration for further writing. That is, they could seize the raw emotions of the disease, depression, lost love, etc., and incorporate them in stories.
If some perverse writer's demon told me I had to endure major writer's block, but I could pick the cause, I'd choose the last one—the belief I couldn't live up to past success. This can afflict writers who produce best-selling first novels. It might be difficult to recapture that achievement. At least that one presupposes there has been past success!
You can find out more about writer's block from reading this post by Ginny Wiehardt, this post by Jeff Goins, this list of famous author's comments compiled by Emily Temple, and this Wikipedia article.
I believe cases of MajWB are rare, so you should never have to deal with it. Still, forewarned is forearmed, and now you're both. Although I'm no doctor, I am—
Poseidon's Scribe