When you're on a roll, go with it. I've been landing the most fascinating interviews with the authors of the wonderful stories in the Hides the Dark Tower anthology, and today I present another one.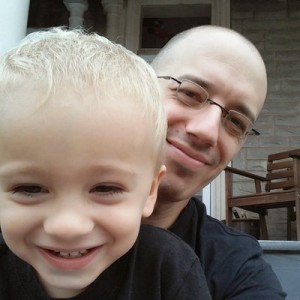 I interviewed Jeremy M. Gottwig. According to his website, he lives in Baltimore City, and is a trained librarian and programmer. Writing is his hobby, but his favorite job is being a parent.
Here's the interview:
Poseidon's Scribe: How long have you been writing?
Jeremy M. Gottwig: I read Watership Down in junior high and caught the bug. Most of my early stories involve talking animals. I am now in my mid-30s. A few weeks ago, my parents sold the house. My mom told me that she found boxes and boxes of notebooks filled with my stories and partial novels. I'm tempted to go through them and see if I discover any gems, but I'm also a little nervous about what I might find. I was a strange teenager.
P.S.: On your Twitter page, you state that you write space opera. How do you define that term, and why do you write in that genre?
J.M.G.: For me, space opera is about exploration, discovery, and relationships. I expect space opera to be epic. Perhaps it takes place over vast distances or over the course of many years. I hope to see substantial character growth throughout the course of the story.
It is my preferred genre, because it was my dad's preferred genre. I grew up on Star Trek and classic Battlestar Galactica. I am a librarian and programmer, and my first job after graduate school was at NASA. My interest in languages, technology, and information stemmed in part from my early exposure to space opera. I hope to pass a love of science and space onto my son, and I hope that my stories can be part of this effort.
P.S.: I'm sure your son will appreciate it. In what way is your fiction different from that of other authors of space opera?
J.M.G.: I love reading about space battles, galactic conflicts, and seismic shifts, but I tend to avoid these themes in my own work. My space opera tends to be smaller, personal, and somewhat light-hearted. I like to drop ordinary people into extraordinary circumstances and observe their growth across space and time. My stories are more likely to contain marital disagreements than military engagements.
P.S.: Your website includes much of the latest news from NASA. Do current NASA developments give you ideas for stories?
J.M.G.: I use scientific discoveries to help with adding details to stories. I often mine Kepler's exoplanet data to describe planets. Only on rare occasions do scientific discoveries inspire the stories themselves.
P.S.: Your website states that many of your stories take place in the same "universe." Do you have a name for this story world, and what are your plans for it (short stories, novels, collections)?
J.M.G.: All of my current stories take place in and around Xevilious, which is an alliance of worlds bound together by an engineered virus. Earth became a member of this alliance in 1988 following a First Contact event. I've rewritten much of Earth's history after that point. (For example, Dukakis won the presidential election rather than H.W. Bush.) I use this world to give me consistent rules when writing. For the most part, I write flash and short stories, but I do have a number of longer pieces. My largest project in this universe is Employee of the Year: a series of novellas (six and counting), which takes place in the years following First Contact. I have two additional collections planned, one in the distant past and another in the distant future. All of these stories feed into one of several overarching threads, and I use short stories and flash to highlight tertiary issues and minor characters.
P.S.: How do you keep track of all the facts about your story universe, to keep from having the stories conflict?
J.M.G.: I keep long and detailed Google Docs that contain planets, races, star systems, and so on. I plan to transition some of this data over to my website and make it publicly available. I also keep all of my stories in Google Docs, and I use the search feature if I ever need to verify a detail.
P.S.: How do you describe your writing style?
J.M.G.: I sacrifice poetry for simplicity.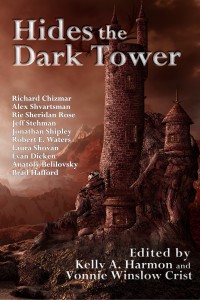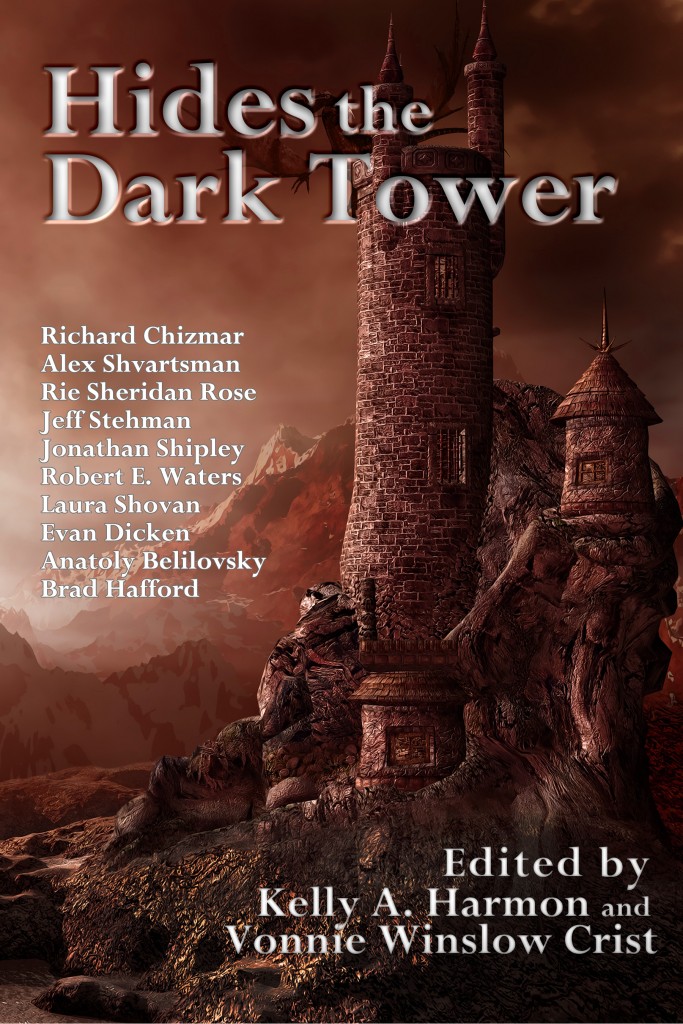 P.S.: Well said. You wrote "Who Abandon Themselves," which appears in Hides the Dark Tower. Please tell us about the story.
J.M.G.: Shy Aubolis struggles with the day-to-day operations of running a monastery, while maintaining a sinful correspondence with a former lover. This story takes within a black hole's planetary system. I have written more about the characters (and their historical inspiration) on Vonnie Winslow Crist's blog.
P.S.: You have a book coming out called Employee of the Year. Please tell us about it.
J.M.G.: The story is about teenager and fast food employee, Chet Eubanks. After First Contact, Chet obsesses over strategies to get into space. He is selected for an illegal corporate project to determine how much traction the company's fast food products might get with alien lifeforms. Chet welcomes the opportunity, but he should have thought things through a bit more carefully.
And there you have the first three chapters in a nutshell. What follows is a multi-year epic that carries Chet from south town South Dakota and into the depths of space.
P.S.: What is your current work in progress? Would you mind telling us a little about it?
J.M.G.: Employee of the Year is a series of novellas and novelettes rather than an individual novel. It is broken up into "seasons." I have completed the first season and am hard at work on the second. Whenever I need a break, I write a short story or a piece of flash.
I am releasing the first Employee of the Year novelette in December. I plan to release the other episodes throughout the first half of 2016.
Poseidon's Scribe: What advice can you offer aspiring writers?
Jeremy M. Gottwig: Set a realistic writing schedule. You are busy, and writing is hard work. I tend to caution against setting word goals and prefer to focus on keeping the schedule. If you have writer's block, edit something you have already written.
Thanks, Jeremy! I invite readers of my blog to find out more about Jeremy M. Gottwig at his website, on Twitter, on Facebook, and on Pinterest.
Poseidon's Scribe