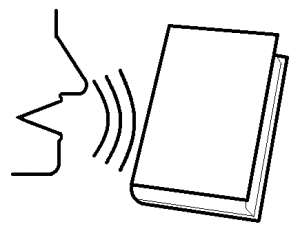 We call it laryngitis when you lose your voice, but what if you never found it in the first place? To be clear, I'm not writing about a medical condition of the larynx, but rather about your writing voice.
Definition
What is a writing voice? I liken it to your vocal voice in that it is distinctively yours, an individual indicator like your fingerprints, your retina patterns, and your signature. It's a marker that can be used to identify you.
In other words, a few paragraphs could be taken at random from your published stories, and a reader might be able to recognize that you're the author.
Is your writing that identifiable? Is it unique? If not, how can you get to that point?
Two Elements
Before we arrive at a way to answer those questions, I'll cover what I believe to be the two elements of a writer's voice.
The first is the subject, the topic about which you commonly write. This can take the form of a genre or theme.  Someday when you have compiled a full body of work and your name comes up, if people say, "That's the author who writes about ______," it's that '______' that forms part of your voice.
The other element has to do with style. It's not just the subjects you write about, it's how you do it. The Wikipedia article on Writer's Voice suggests that this element; a combination of character development, dialogue, diction, punctuation, and syntax; is all there is to a writing voice. I'm not willing to discount the subject/topic element, though.
Discovery
How do you find your voice? This marvelous blog post by author Todd Henry provides a great way to help you find your voice by answering ten questions. These questions help you reach your inner passions and hopes. In this way you'll touch the deep emotions and motivations inside.
Why does that method work, for discovering your voice? Certainly the answers will help you determine the subject half of your voice. The answers will suggest topics you should write about or genres to write in. Only by tapping in to your central core of strong enthusiasms will you be able to sustain the discipline to complete what you start to write. If you work at it, those deep hopes and passions will become evident in your writing.
What about the style element? How are you supposed to discover that? I'm not sure answering Todd Henry's ten questions will answer that. I believe your writing style is a matter of imitation early on, then leading to experimentation, and finally perfecting.
No Guarantee
Let me set some expectations about this process of finding your writing voice. In the end, you'll have a unique voice, one recognizable as you. That doesn't mean anyone else wants to hear it. This isn't a recipe for fame or financial success in writing.
I'll write a blog post sometime laying out the sure-fire, step-by-step formula for how to become famous and rich by writing.
Sure. Keep checking back for that one.
What's the point, you're asking, of this voice discovery process? Why go through it? I'd answer that all the authors who are famous, or rich, or whose writing is considered classic, all of them have a distinctive writing voice.
I think finding your voice is necessary, but not sufficient, for success. You might discover your writing voice only to learn it's not marketable. If high sales numbers are what you're after, experiment more. Try slight alterations of voice until you hit the combination of subject and style that sells.
Best of luck to you in finding your writing voice. Still searching for mine, I'm—
Poseidon's Scribe