Businesses have mission statements and strategic plans. As a writer, shouldn't you have them also? After all, writing is your business. Let's see if these tools are right for you.
First, what are they? A mission statement is different from a strategic plan. A mission statement is a written declaration of what your business is striving to be, a vision of its intended future. It embodies the goal and vision of what the business seeks to become. It is bold, imaginative, and inspiring.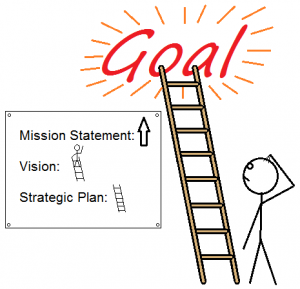 A strategic plan is a detailed blueprint of how to achieve that mission. It assigns intermediate actions to complete, and dates when each action is to be done. It is a logical progression of steps toward the goal. It is achievable and actionable.
Why are these things useful to businesses? Sometimes, in the rush of things, it's possible for someone in a company to make a decision or take an action contrary to what the company is all about. A mission statement focuses everyone in the company on the single goal. In the moment of decision, a glance at the mission statement might keep an employee from taking the wrong path.
The strategic plan takes employees out of the lofty, pretty world of grand visions and gives them a practical, measurable way to work toward the goal. It breaks down the seemingly impossible vision into concrete tasks they can accomplish.
Fine so far. It's easy to see why businesses find mission statements and strategic plans useful. For one thing, most businesses have more than one person in them, often hundreds or thousands, and sometimes millions of employees. A mission statement helps to keep all these people focused on a single goal, and the strategic plan helps them all achieve it.
Still, one person can have a mission statement. Dr. Stephen Covey, author of The 7 Habits of Highly Successful People, advocated personal mission statements for individuals.
But, as a writer, do you need these tools? Authors such as Shannon from Duolit, Allen Watson, and Joanne Phillips cite good reasons why you do.
I don't know.
If we were to ask the most successful authors today (use whatever definition of 'successful' you like), I bet few of them bother with mission statements or strategic plans. They might tell you their credo from memory or come up with one on the spot, but they haven't written it down, let alone tacked it to the wall above their computer.
Still, just because they achieved success without these tools doesn't mean you will. Perhaps you'd find them useful, even necessary.
Particularly if you're the kind of writer who just wants to write, and detests the messy business side of it. Perhaps you don't even like the word, 'business.' Sorry, but if you want to sell your work to readers, then your writing is a business.
Realizing that still doesn't mean you like the idea, though. For you, a well-crafted mission statement could connect the fun writing side of it to the imagined best-seller/movie-deal/mansion-and-sports-car side of things, and remind you that dealing with the business part is your path to achieving that future.
For you, a strategic plan might be just the thing to break down all that intimidating business stuff into manageable chunks. Even though you have no staff, no other employees, a list of small tasks to accomplish can make those unpleasant business goals more achievable.
Depending on your attitude toward business, marketing, and sales, a mission statement and strategic plan could be beneficial to you. Just a couple more items in your writer toolbox, courtesy of—
Poseidon's Scribe