The authors of stories in the upcoming anthology Avast, Ye Airships! continue to be willing to be interviewed by me. I haven't scared the remaining ones away yet.
Speaking of scaring others, today's interviewee is author Ogarita, no stranger to the art of terrifying readers, while armed with nothing but her bare words. Think I'm kidding? The opening picture on her website is of a lonely cemetery, in the dead of winter. My internet browser was afraid to open the page the first time, and now refuses to go back.
Here's the interview:
Poseidon's Scribe: When and why did you begin writing fiction?
Ogarita: I've noodled around with writing stories since I was ten years old and conjured a girl, dumped in a boarding school, who is transported (via a mysterious and never explained glowing rectangle) to a world combining elements of Tolkien's Middle Earth and Lloyd Alexander's Prydain. I turned to writing daily about three years ago, after retiring from an active-duty career in the U.S. Navy.
P.S.: What are the easiest, and the most difficult, aspects of writing for you?
O.: Most difficult? I always, always begin a story in the wrong place. A couple of novels ago I decided this just didn't matter . . . for first drafts, at least. I save that pain for subsequent revisions, during which I suffer the recurring and depressing realization I will never produce anything as wondrously creative as the beginning of Nabokov's Lolita. Regardless of one's opinion of that story, the opening is fabulous writing.
The easiest part of writing? Everything other than beginnings.
P.S.: On your website, you're known as Ogarita (not your real name), and the story of how you got that name is fascinating.  Is that family tradition of bestowing strange, secret, family names likely to continue to future generations?
O.: My family's history is filled with bizarre names, among which Ogarita figures as fairly tame. This custom took a steep dive, however, two generations ago, when my grandfather abandoned the name Yakeley and renamed himself Robert. The love of eccentric names continues, however; throughout my childhood my mother expressed frequent regret she hadn't named me Hepzibah. It's possible this close call inspires me to write stories filled with fear.
P.S.: Ogarita it is, then. You've said you write stories of "ghosts and banshees, creepy houses and spooky cemeteries, stalkers and extroverts." How did you become interested in writing tales of that type?
O.: First, discovering the best ghost movie ever filmed: The Uninvited, made in 1944 and based on Dorothy Macardle's 1941 novel, Uneasy Freehold. When, three-quarters of the way through the movie, the double doors bang open . . . glorious terror! The book isn't bad, either, although the secondary female characters tend to be a bit soppy. Shirley Jackson's The Haunting of Hill House kept me awake at night for three days after finishing it, and I'm still not keen on holding hands in the dark. I'm always searching out well-written stories in which sympathetic characters find themselves inadvertently involved with the supernatural . . . and scared nearly to death.
P.S.: You call yourself a middle grade and Young Adult author. In what ways is that different from writing for a more general audience?
O.: A fair number of writers, and I include myself among them, claim there is and should be little difference between writing for MG/YA and adults, other than the former being a bit less overt in depicting violence, sex, and in using profanity/obscenity. These, however, are far from being hard rules. The characters in John Green's collaborative book (with David Levithan), Will Grayson, Will Grayson, don't hold back in terms of verbal obscenities. Nor does Stephen King dumb down the dangers faced by nine-year-old Trisha (in The Girl Who Loved Tom Gordon), when she's lost in the woods. Are Green and King writing for adults or middle-graders?
In my MG/YA ghost story novels I shoot for spinal meltdown moments, hoping to ruin the sleep of all my readers. That's what I've loved since I was a kid and still do today.
P.S.: You have a story, "Captain Wexford's Dilemma," in the anthology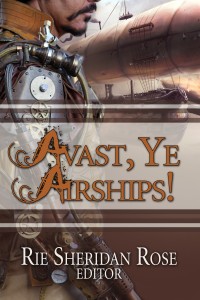 Avast Ye Airships! Without spoiling anything, can you tell us a little about the story, and what inspired you to write it?
O.: The superheated steam produced by a ship's boilers, properly controlled, creates enormous amounts of beneficial power. Controlling the steam, however, requires careful maintenance and the right materials—steel, for example—that can withstand the intense and high heat. In October 1990 the amphibious assault ship USS Iwo Jima (LPH-2) docked in Bahrain for repairs to a steam valve. A contractor mistakenly chose metal fasteners of brass, rather than steel, to fasten down the bonnet of a steam valve; when the ship got underway, the fasteners gave way and the ship's boiler room flooded with superheated steam. Eleven men died because of a small, crucial, mistaken choice. Captain Wexford's Dilemma allowed me to create and take control of a similar situation, but from that starting place spin a fantasy with a different outcome, one that I found emotionally salvific. And, because I have long worked in the field of religious diversity, humor crept in as the story revealed itself and Captain Wexford struggled to find ways to deal with a far less material challenge to the safety of her airship.
P.S.: What other authors influenced your writing?
O.:
Terry Pratchett. A genius who made Death one of fantasy's most believable character.
Barbara Hambley.

Those Who Hunt the Night

(1988) a vampire-filled murder mystery, uses suspense and a sense of place exceptionally well.
Katherine Catmull, Claire Legrand, Stefan Bachmann, and Emma Trevayne.

The Cabinet of Curiosities

(2014) contains thirty-six inventive and beautifully written short stories. I read these, then decided I needed to explore this form; the result was "Captain Wexford's Dilemma."
Yrsa Sigurðardóttir.

I Remember You

(2014; 2012 in the UK) is the best ghost story published in the last five years, hands down. Like Stephen King, Sigurðardóttir isn't afraid to allow her characters to develop before she turns loose the ghosts.
P.S.: What is your current work in progress? Would you mind telling us a little about it?
O.: I'm finishing the first draft of "The Lake Eerie Ghost," a MG murder mystery/ghost story about a group of kids attending summer camp on a fictitious island in Lake Erie. There's a haunted lighthouse involved, because I'm crazy about lighthouses. At the same time, I'm revising another MG story that I hope will delight and frighten: "Curse of the Banshee," in which a young girl and her twin cousins investigate a series of near-fatal accidents and an ancient curse. Murder, mayhem, and spooks make each day of writing pure pleasure.
Poseidon's Scribe: What advice can you offer aspiring writers?
Ogarita:
Don't let anyone, editors or readers, tell you the semi-colon has no place in fiction; this fabulous bit of punctuation has ably separated closely-related independent clauses since 1494.
Write or revise or outline every day. Every. Single. Day. Doing this has been a trial at times, but it has also improved my writing and kept at bay writer's block.
Ignore those who say one's best writing (or revising and outlining) is done early in the morning. I'm convinced early-morning writers are masochists.
Exercise. Walk, lift weights, bike, swim, do yoga, anything that keeps blood pumping and muscles toned!
Find or create a support group of other authors. A good group celebrates success, understands rejection, and keeps dreams alive, often with cupcakes.
Ogarita, thanks so much for that fascinating interview. My readers can find out more about Ogarita's spine-chilling tales on Twitter and at her website.
Poseidon's Scribe
Please follow and like me: