Recently, author Gregory L. Norris stopped by my sprawling complex here at Poseidon's Scribe Enterprises, and I took the opportunity to interview him. After all, (like me), he has a story appearing in the upcoming anthology In a Cat's Eye.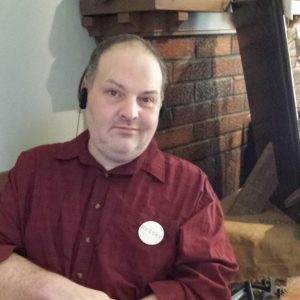 Gregory is a full-time professional writer being romanced by his muse. He has thousands of publication credits to his credit, most in national magazines and fiction anthologies. A former writer at Sci Fi magazine, he once worked as a screenwriter on two episodes of Star Trek: Voyager and he's the author of The Q Guide to Buffy the Vampire Slayer. He's had two paranormal romance novels reprinted as special editions by Home Shopping Network as part of their "Escape with Romance" segment – the first time HSN has offered novels. He has fiction forthcoming from Cleis Press, STARbooks, Evil Jester Press, The Library of Horror, Simon and Shuster, and Pill Hill Press. Gregory judged the 2013 Lambda Awards for excellence in GLBT writing in the SF/F/H category. In 2014, Gregory was hired as screenwriter on two feature films, including the terrifying horror movie, Brutal Colors. Twice, his short stories have notched Honorable Mentions in Ellen Datlow's Year's Best anthologies. Norris lives in and writes from the mountains of New Hampshire, in a beautiful old New Englander house called Xanadu. His career has been featured numerous times in print interviews, on radio, and on television.
Now, the interview:
Poseidon's Scribe: How did you get started writing? What prompted you?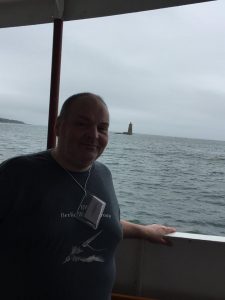 Gregory L. Norris: I grew up in a tiny, enchanted cottage situated between a lake and vast, dark woods, and was raised on a healthy diet of creature double features and classic SF/Horror TV—shows like Dark Shadows, Lost in Space, and, especially, Gerry Anderson's deep space parable, Space:1999. The morning following the premiere of the latter, I picked up my pen, put it to paper, and wrote the first of my stories, which are still archived in my filing cabinets. I was ten-years-old then, and dabbled with writing stories, novellas, even a novel, up until I was fifteen. That summer, sadly moved from the enchanted house to a suburban neighborhood, I began work on a novel that featured my few friends as the lead characters. Those friends took stabs at writing their own stories, but stopped after the first few pages—some, following a couple of paragraphs. But they all held onto my tale, wanting to know what happened next. On a sleepover on a muggy July night, possessed by the muse, my pen tore across the page to THE END of that novel. I was so filled with an emotion I now think of as eight-pointed stars—inspiration—that I picked up the pen in my exhausted hand and started work on another story. I knew then how much I loved writing. Nearly 1200 short stories, novellas, novels, and screen- and teleplays later…
P.S.: What authors most influenced you? What are a few of your favorite books?
G.L.N.: As a young reader, I absolutely loved—and still adore—Edgar Allen Poe. And it's been my pleasure to be published alongside him in two anthologies by the fine folks at Firbolg Publishing. To this day, I can still recite his brilliant 'Lenore" by memory. I also loved the Dark Shadows novels by Marilyn Ross (a pseudonym for author Edward Daniel Ross). I have most of them, hand-me-downs from an uncle, in the bookcase in my Writing Room as we speak. These days, I'm influenced by my talented contemporaries. On Tuesday nights, I am blessed to sit in a conference room in my downtown and listen to my fellow creatives read their newest pages in the weekly writers' group I helped found. Last year, I devoured author Roxanne Dent's novel, The Janus Demon, and loved it so much that when I was done I started again with Chapter One—a highly recommended joyride of a read. Anything by Roxanne and her sister Karen Dent is a joy for the senses.
P.S.: What are the easiest, and the most difficult, aspects of writing for you?
G.L.N.: I write full-time, and learned a looooong time ago how important it is to be organized. For instance, at the end of every workday I make sure to carry my coffee cup out to the kitchen sink. Mentally, when I enter my Writing Room the following day, it's clean, organized, and welcoming me to sit and write without distraction. I've cleared most distraction from my home and work life as well. When I travel to retreats—I leave on October 12 for my sixth of 2016 to a luxury retreat center for writers in Vermont—I make sure that my Writing Room is immaculate and will welcome me home to continue the good work I've done on the road. Difficult? Years ago, I realized how important it is to get out of one's way, to not make excuses, to just dive in and write. And to love the process. That, to me, is the easiest. I love to write. I love my stories. They're my babies, and even the homeliest among them is a joy and I am devoted to giving them all, at the very least, a first draft, a life, even if that life is only lived to THE END in the confines of my home office and not out in the publishing universe. Granted, they howl at me in the night, all of them (at this point, as I type these words, 107 of the little incomplete bastages, all demanding my attention).
P.S.: From your website it seems you mostly write horror. What other genres have you written in, and which one is your favorite?
G.L.N.: I do write a lot of horror. I love the genre, and all its sub-genres—tales of giant monsters, SF Horror, ghost stories, grand guignol, the quiet chill. But I write and publish everything, including Mystery, SF, Fantasy, Romance, Erotic Romance, Literary/Mainstream. Even Westerns! I used to say I despised Westerns, because when I was a kid, that's what came on after the creature features. Then in 2013, I was hospitalized for five days with a cyst, and the only things on the TV during the wasteland of daytime television were classic Westerns. I wrote in my hospital bed with those Westerns playing in the background, and left the hospital with a chunk of fresh pages as well as three ideas for Westerns, all of which have been written and sold. As for a favorite, well, like individual stories I don't have a favorite genre. I love to write, regardless of the particular world my tale is set in.
P.S.: In what way is your fiction different from that of other authors in your main genre?
G.L.N.: I suppose the easy answer is my point of view, my creativity. Every year at this time, our writers' group is given a half-dozen prompts to write from for our Halloween meeting. If the prompt is, say, "Jack O'Lanterns," well, my story is going to be different from the dozen others shared that night. I write mostly without fear, write what I want to write, and write with that same rush of inspiration I so remember from that July night when I was fifteen. It has, knock on wood (in this case, my desk—the dining room table we ate upon in my boyhood enchanted cottage, which was given to me when I was fifteen and confessed I wanted to be a writer to my mother), stayed with me past my fiftieth year.
P.S.: How long have you been writing full-time? (So few authors are able to!)
G.L.N.: I've been writing full-time since 1995, when I was hired to write sports/adventure stories for the late, great Heartland USA magazine. Over my twenty years with that publication, I traveled to the X-Games, covered Building Demolition, and interviewed tons of celebrities and sports stars. I also wrote for the Sci Fi Channel's official publication, did articles for Soap Opera Update, Cinescape, and a significant number of national newsstand publications. At a buck a word, it was easy to write full-time. When those magazines went away, I focused on my short stories and novels, along with the occasional screenplay. I never forgot a golden bit of wisdom by author Grace Paley when she was asked the secret to writing full-time: "Low overhead," she answered. We bought a fixer-upper and fixed her up and have no mortgage, and, through hard work and determination, have paid off all our other bills, so when writing work comes in, which it does constantly, we're able to enjoy it, such as in the form of those six writing retreats in 2016—which included two trips to Vermont, one to the slopes of Mount Monadnock, and one to the Isles of Shoals.
P.S.: What was it like to do some screenwriting for the Star Trek Voyager series? How was writing for TV different from, and similar to, writing for the book format?
G.L.N.: Voyager was a trip! I must have pitched over a hundred ideas to nail the two. The second, which became the fifth-season episode "Gravity", came as a result of, exhausted to the point of passing out on the night before one of those pitch meetings with Paramount, dreaming about members of the crew being stranded inside a gravity well. I woke up, jotted the notes down, and pitched it that same day. Two weeks later, it was contracted for and became the episode featuring the back-story of Tuvok, the ship's Vulcan tactical officer. Screenwriting is another personality of writing—skeletal framework, mostly dialogue and action. While on the island retreat in early September, I belted out thirty pages of a mystery screenplay that I hope to wrap in Vermont during this coming week.
P.S.: What are the predominant themes in your fiction?
G.L.N.: That's a very good question. So good that I struggled to come up with a clear answer. If anything, I would say that in my Science Fiction, there is wonder for the vastness of the cosmos. In my Horror, the elegant stroke of fear along the spine, which I so remember from my boyhood spent on Saturday afternoons in front of the big, boxy TV set hooked up to rabbit ears. There were days when, following movies like Attack of the Mushroom People or Majin, Monster of Terror that I was too freaked to go outside and play. And the rest of the time in my work, I hope the theme, whether in romance or erotica or any other genre, is Love.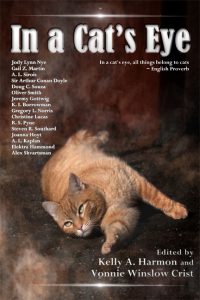 P.S.: Your story, "The Neighbors' Cat," will appear in the anthology In a Cat's Eye. Please tell us about it.
G.L.N.: In May, I flew out to Hollywood to attend the Roswell Awards, where my short story "Mandered" won Honorable Mention. It's a big deal—at the Roswells, winners see their stories staged by famous actors of Film and TV. At one point, I was on stage with Dee Wallace and Jasika Nicole, who we loved on Fringe. I departed early on a Saturday morning. That morning, a neighbor's cat was parked outside my sun porch door, harassing our two cats. We love cats. That neighbor, not so much. So I remarked, "Even their cat's an a-hole." ZING! By the time I landed in Hollywood and was at my hotel, an entire story developed. I put pen to page and belted out the first half of a story in which a neighbor's cat brings warning of the nefarious goings-on in the house next door.
P.S.: What is your current work in progress? Would you mind telling us a little about it?
G.L.N.: I am, today, hopefully putting the final words down on a Space:1999 fan fiction story called "The Tomorrows" which has seriously challenged my German heritage—we're not supposed to cry, and I've blubbed nonstop since starting this novella, which I wrote to read at my September 18th wedding (we had a very short ceremony, followed by an amazing all-day writers' group salon). I've got various projects lined up to take with me to Vermont, including short stories and the mystery screenplay, and then I'm using November to commit to National Novel Writing Month—my goal is to write an SF novel I've been invited to submit to a publisher. I'll use December to focus on short fiction and to wrap up my 2016 (my goal is to complete everything I began this year, and not send a single project to the Works-in-Progress drawer of my filing cabinets). In January of 2017, I'll begin work on a novelization of a Gerry Anderson made-for-TV movie that I've been hired to pen from the original screenplay.
Poseidon's Scribe: What advice can you offer aspiring writers?
Gregory L. Norris: Write from the heart, and with all your heart. Love the process—it will translate onto the page to your readers. Don't assume writing is easy; it isn't. But like any passion that is spun into a trade, the 'work' part fades, and it becomes a calling. As for rejection, we all get passes and passed over. It's part of the process. I always, always assume the story or novel or script I've just hit 'send' on is going to get rejected. And when they don't, when they bring home their contracts, I'm overjoyed. My formula for success is as follows: Write, Finish, Polish, Submit. Grow up and mature as writers, but never grow old.
Thanks for stopping by, Gregory! Readers can learn more about Gregory L. Norris and his stories at his website or on Facebook.
Poseidon's Scribe
Please follow and like me: