We've been meeting fascinating authors recently through my interviews, and that streak continues today with my interview of Lauren Marrero.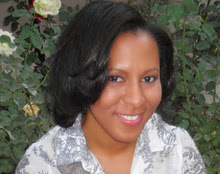 On her website, Lauren describes herself as a sapiosexual romance novelist, cat lady, and adventuress. She's the author of the novel Seducing the Laird.
Here's the interview:
Poseidon's Scribe: When and why did you begin writing fiction?
Lauren Marrero: I was a writer long before I was consciously aware of it. Back in school, I became so excited about writing essays—my friends definitely thought I was weird. It wasn't until college, while choosing a major, that I realized writing was my passion.
P.S.: You have a short story, "Her Majesty's Service," appearing in the anthology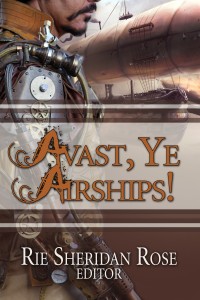 Avast, Ye Airships! What is your story about?
L.M.: After a passionate one night stand, a young woman discovers the man she slept with is caught up in a dangerous world of intrigue.
P.S.: You've written a historical novel,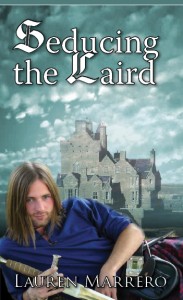 Seducing the Laird. Please introduce us to the main character, Verena.
L.M.: Set during the late middle ages, Verena is the perfect spy, working for the ruthlessly-ambitious Lord Gundy. Her mission is to recover a fabled cache of Roman silver, lost for hundreds of years beneath the stronghold of the Scottish laird Cairn McPherson. She must use all of her powers of seduction and intelligence to infiltrate Cairn's household, but this mission may be her undoing.
Verena is an anti-hero, a woman forced to do whatever she must to survive. She is deeply disturbed by her assignment, knowing that her actions may cause the destruction of a clan she has grown to love. This is a story about redemption and realizing that it is never too late to be a better person.
P.S.: Reviewers keep saying they couldn't put your novel down, that you had them from page one. Would you care to share your secret for how you achieve that?
L.M.: Honestly, I was a little surprised to see such positive reviews for a first novel. Sure, I loved it, but I wasn't sure my audience would love the same characters and laugh at the same jokes.
I tried to bring my enthusiasm for the characters onto each page. I constantly asked the opinions of my friends and family while writing. Did they think a scene was realistic? How would they feel if a character behaved a certain way? That feedback helped to make the story much better.
P.S.: I see you enjoy traveling. Are all your stories set in places you've been?
L.M.: Unfortunately, no. Unlike Nandi from "Her Majesty's Service," I have never been to Cairo, but that is definitely on my list!
P.S.: The topic of food keeps coming up on your website. How do you use food in your fiction writing–just to show the characters being real, or to give credibility to the historical time and place setting, or to advance the plot?
L.M.: People say to write what you love. I am a foodie. I believe knowing people's tastes gives insight into their character. Laird Cairn McPherson is a tough and capable leader, but has an incurable sweet tooth. Verena cleverly uses that knowledge during her seduction. When he is at his lowest moment, not knowing if he will live or die, Verena appears before him like an angel of mercy, offering all the comforts of home. It is no wonder he falls for her!
P.S.: If you could bring back a dead author to talk to over dinner, whom would it be, and what would you be anxious to ask?
L.M.: I consider Oscar Wilde to be one of the greatest writers. Few authors are so skillful at combining emotions. While reading his work, I want to laugh, cry, beat up some characters, and hug others. I wouldn't presume to ask Oscar Wilde anything. I would just let him talk.
P.S.: In what way is your fiction different from that of other authors of historical romance?
L.M.: I wanted my novel to be a more evolved story. There is intrigue, espionage, ghosts, malicious fairies, and the threat of war. Yes, the characters fall in love, but there is much more to the book.
P.S.: What is your current work in progress? Would you mind telling us a little about it?
L.M.: I am currently working on the sequel to Seducing the Laird. In the first book, I introduced an entire family of spies, each with complex stories and diverse backgrounds. I believe each of them deserve to fall in love.
The next novel takes place in France during the Italian Wars. Italy, France, and Spain are pitted against each other. It is up to the spies to resolve it –and break a few hearts in the process.
Poseidon's Scribe: What advice can you offer aspiring writers? In particular, what do you wish someone had told you about writing or getting published that you had to learn the hard way?
Lauren Marrero: Make friends. I found that the best way to stay motivated is to be around like-minded people. Join writing groups and attend readings by local authors. It may take years before you see your work on a bookshelf, but if you can keep your attention on writing, it will keep you focused on your goal.
Thanks, Lauren! Luckily for readers of my blog, I know where you can find out more about Lauren Marrero.  She's on Twitter, Facebook, Goodreads, and Amazon. Her website is here.
Poseidon's Scribe
Please follow and like me: