Here is the fifth post in my series. I've been discussing how the seven principles put forth by Michael J. Gelb in his book How to Think Like Leonardo da Vinci relate to fiction writing. Today's principle is Arte/Scienza, or "Development of the balance between science and art, logic and imagination, 'whole-brain' thinking."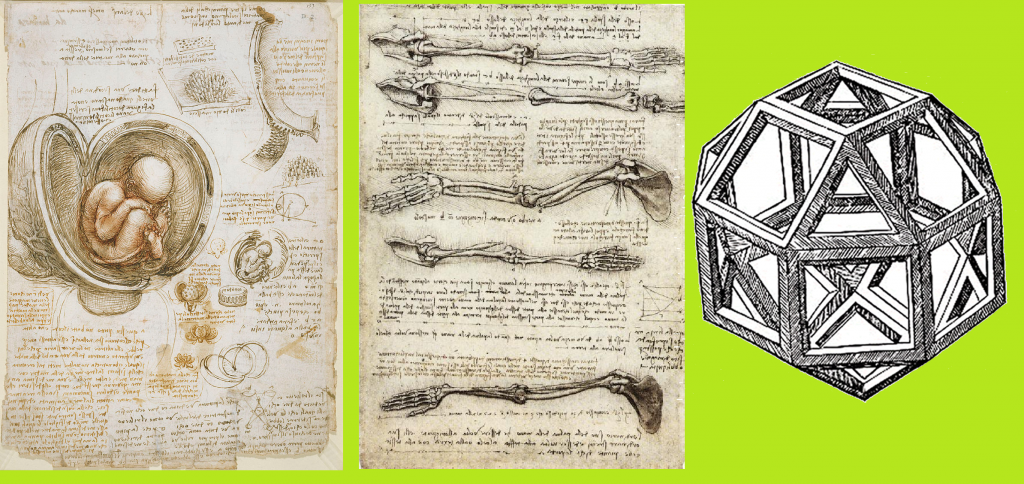 In the book, Gelb demonstrates how Leonardo embodied the kind of balanced thinking intended by the term Arte/Scienza. His artistic paintings contain precise mathematical shapes and geological features. His scientific and engineering drawings are, themselves, works of art. Da Vinci didn't distinguish between the two.
Sure, you're saying, that's all very well for ol' Leo, born way back in 1452. But a lot has happened since then, particularly on the science side. There's too much to learn to be an expert in both art and science. The two are way too different these days.
Artists are all about brushes and canvas, lighting and shadow, color and imagery. They're out to discover beauty, or deliver a message, or say something significant about human nature.
On the other hand, scientists groove on equations and numbers, test tubes and Bunsen burners, experiments and technical papers. They're out to discover truth, and to solve the mysteries of how the universe works.
In our modern world, we're used to a high wall between Arte and Scienza. The two are so specialized, require such different talents, and their practitioners use such different jargon that it's difficult to imagine one person combining the two in equal measure. Even books discussing Leonardo da Vinci separate the chapters for his artwork from those of his scientific endeavors.
Today we speak of being left-brained or right-brained, as if each of us is putting only half our brain to work and leaving the other half idle.
Michael Gelb discusses how you can use the philosophy of Arte/Scienza in your everyday life, and promotes the use of mind maps, which I also advocate.
My purpose is to discuss how Arte/Scienza applies to fiction writing. Most fiction writers identify more with artists than with scientists. They consider fiction writing a kind of art, and believe their creative temperament matches that of painters more than that of researchers. (The exception would be science fiction writers, who must use science in their writing.)
Here are some ways that even an author of magical fantasy, a writer who disdains all things scientific, can benefit from applying the Arte/Scienza principle:
Use mind-maps to aid in the writing process. These combine the logical orderliness of outlines with the free-form, colorful, image-laden right-brain preferences. Mind-maps can help you solve plotting problems, create characters, even plan book promotions.
Apply the experimental method to the development of your craft. The heart of science is the experimental method, used to expand the boundaries of human knowledge. You're trying to become a better writer, so experiment!
Add a scientifically minded character to your story, even if he or she is the antagonist, a person of pure evil. Pour all your negative feelings about science into that character. You may just find, as you develop this antagonist, that he or she becomes one of your more engaging and interesting creations.
Embrace the overlap between art and science. If art searches for beauty, and science seeks truth, are those really that different? In the end, you'd like your book to say something new about the human condition, to expand reader's knowledge about the theme you're exploring. While working your art, haven't you just committed an act of science?
Listen to your inner artist and your inner scientist. The more you do, the more you'll find them getting along well together, and your writing might improve, too. So far, it's working for—
Poseidon's Scribe