Like most writers, I'm curious about how readers come across my books. By what means do they discover them? If I had good information on that, I could focus on the marketing methods that work and abandon those that don't.
Fortunately, author RJ Scott showed me how to do this. In one blog post, she published the results of a survey of her readers, in which she asked how they found her books.
I decided to do the same thing. I sent out thousands of e-mails to my fans (and acquaintances, and random passers-by) and gathered the responses. I first sorted the valid responses from the spam, advertising, and ugly threats to do me vicious bodily harm.
Then I plotted the data from most responses to least, Pareto chart fashion. Some responses were similar enough that I used slashes '/' to show response variations.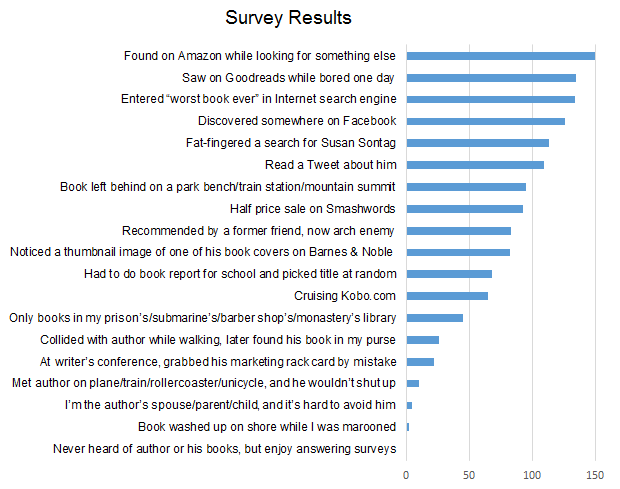 It looks like my presence on Amazon, Goodreads, Facebook, and Twitter is working. There's a lot to be said for plain ol' dumb luck, too, apparently.
The most surprising result was the two responses saying readers discovered one of my books while marooned on an island. I'm not sure if that's two separate instances or two people on the same island. In either case, my campaign of wrapping books in bubble wrap and casting them in the ocean is probably not worth further investment.
It's nice, too, when readers take the time to fill in the Comments section. That allows me to get beyond the mere data and explore the true reasons readers discover me, and my books. Here are all those comments:
"Your books are great! I can't understand why they're so unpopular."
"You write as well as authors twice your age."
"Buy ???????? cheap! Have more enjoyable ??? now!" [Comment edited for content]
"I love your book. It's keeping my kitchen table perfectly level right now."
"What's this Comment space for? Am I supposed to type something here?"
"Qwert yui opasd fghjkl zx cvbnm."
"That's the last time I go on Amazon with my two-year-old in the room. Their one-click ordering feature is too easy."
It's going to be awhile before I do another reader survey, I think.
Just remember, any way is a good way to discover—
Poseidon's Scribe
Please follow and like me: