I just had to write to thank you, thank you, for the great times, the pleasures of reading your work.  There's no sense letting a little thing like your death in 2012 prevent me from expressing my gratitude, is there?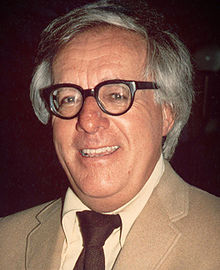 Sorry, I haven't read all your books and stories.  I've read less of your canon than I have of Jules Verne's, Isaac Asimov's, or Robert Heinlein's.  But, oh, the few of your books I digested left lifelong mental imprints:  Something Wicked This Way Comes, Fahrenheit 451, Dandelion Wine, The Illustrated Man, Now and Forever, and The Martian Chronicles.  In high school, I read your short story, "The Flying Machine," and my recollections of it inspired my story, "The Sea-Wagon of Yantai," written decades later.
At one point, you declared you wrote fantasy, not science fiction.  In my view you blended the two.  You made science sound like fantasy.
Moreover, your flowing style of writing contrasted with that of the hard-science fiction writers.  Their stories conveyed a love of machines, of science.  Yours proclaimed a love of word imagery, of the magic of English, of poetic prose.
The authors of hard science fiction told me tales of technical detail.  You sang me stories of marvel and wonder.
I guess I'm trying to say that I write more like those other guys, but wish I could write like you.
On occasion, you related a particular memory from when you were about twelve.  At a carnival, one of the performers known as Mr. Electrico touched an electrical sword to your nose which made your hair stand out.  You claimed he told you, "Live forever!"
In a very real sense, Mr. Bradbury, you will.  Thanks again.
                                                            Poseidon's Scribe
Please follow and like me: