Most gifts are tangible things, items that occupy space and have weight. But writers tread the realm of visions and dreams, thoughts and imaginings. You can't give those things as gifts, can you? Well…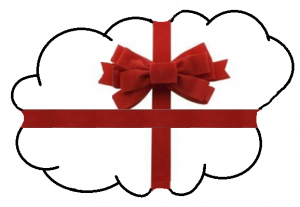 Author Andrew Gudgel and I were exchanging gifts at holiday time a few years ago. He'd been talking (for well over a year) about a story idea he had. I thought it was wonderful and kept urging him to write the story. Instead, as a gift to me, he said, "You write it."
There were some tangible things he also gave me, the notes he'd compiled while preparing to write the story. But the real gift was the idea, and he'd given it to me.
I know, I've blogged before that ideas are the easy part, the trivial part, the dime-a-dozen part, and I've said the hard part is actually scribbling down the story and polishing it until you can sell it.
Let me caveat that now. Some ideas are more valuable than others are. Some are gold. Some are more valuable to a writer other than the one who thought of them. Such was the case with Andrew's idea; he sensed I loved it more than he did, and that I would not hesitate to run with it. For him, it was in the 'I'll get to it someday' bin.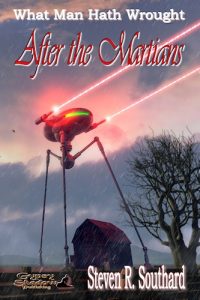 From Andrew's idea came my story "After the Martians." In partial payment to him, I named a character in the story after him. If you add the value of that to the value of whatever silly gift I gave him that year, you'd still fall far short of what he gave me. I was out-gifted, plain and simple.
As Andrew so eloquently put it in his blog: "'Ideas rot if you don't do something with them,' said the writer Edd Dumbill. I agree. By keeping a creative idea locked away in your head/on your hard-drive/in your notebooks, it's not free to enrich the world. Think about it this way: you may be fated to conceive of the idea and to give birth to it, but not to be the one who raises it to maturity. That may be someone else's task. So, if after a period of sober reflection, you come to the conclusion that you're not going to make use of an idea, give it away—throw it to a creative friend, put it on your blog, launch it out into the public sphere—and give someone else the opportunity to enrich the world with it."
For completeness, I should mention another, earlier example of giving an idea as a gift, though this still causes me anguish and shame.
Many years and several critique groups ago, I was in a group with Raymond (not his real name). Each month, Raymond contributed a new chapter of the novel he was writing. One day, we found out Raymond had died. I don't recall the circumstances, whether illness or accident, but he was far too young.
I got a letter from his widow saying that in his final days, Raymond had told her he wanted me to finish his novel, and she was asking if I'd do that.
Wow. Tough dilemma. On one hand, I couldn't refuse a request from the widow of a friend and fellow writer, could I? She wasn't asking for that much—just complete the story he'd almost finished and send it out for publication. She wasn't asking for a portion of the payments, if the novel made money.
On the other hand, I didn't have the passion for the story that Raymond did. I didn't think I could do it justice. The novel involved a plot and genre type that had already saturated the market. It didn't seem to me that readers were begging for another such novel.
In the end, I turned down the offer, with regrets. Perhaps I should have taken it, but I didn't. Raymond's idea deserved a champion who cared about it as deeply as he had. I was not that writer.
As you can see, it is possible to get wrapping paper, ribbons, and bows around something as insubstantial as an idea, a whim. If you're struggling to do it, and can't quite figure out how to cut and enclose, fold and tape the darn thing, if you need an expert guide, call—
Poseidon's Scribe
Please follow and like me: