Meow! Pole-to-Pole Publishing just launched a new anthology, In a Cat's Eye. And one of my own stories is in it!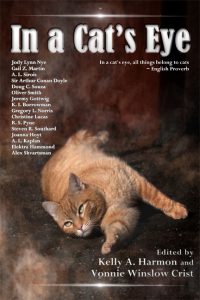 Editors Kelly A. Harmon and Vonnie Winslow Crist have done it again, following up on the success of their previous editorial collaboration, Hides the Dark Tower. This time the theme is cats, those mysterious and independent mammals who recognize no master, but who sometimes permit human contact.
I'm pleased and honored that my story will appear amid those of authors like Jody Lynn Nye, Gail Z. Martin, A.L. Sirois, Sir Arthur Conan Doyle, Doug C. Souza, Oliver Smith, Jeremy M. Gottwig, K.L. Borrowman, Gregory Norris, Christine Lucas, R.S. Pyne, Joanna Hoyt, Elektra Hammond, A.L. Kaplan, and Alex Shvartsman.
My story is called "The Cats of Nerio-3." Space outpost Nerio-3 was abandoned fifty years ago after a cosmic ray storm killed all occupants, other than some cats and mice. Now the outpost's owners have hired Lani Koamalu and PAIGE-8 to reclaim the station. Lani is human, and Paige is an artificially intelligent super-computer who far exceeds people in intelligence…and arrogance. When Paige sends her drones into the outpost and discovers what the mice and cats have been up to, it's time to find out if humans are so inferior after all.
For back-stories on some of the other tales in this antho, check out this post by Gregory L. Norris.
You can get your copy of In a Cat's Eye at Amazon, Kobo, Barnes&Noble, Scribd, and other outlets. Get your paws on one now!
This is truly the Year of the Cat. I think songwriter Al Stewart would have to agree with—
Poseidon's Scribe
Please follow and like me: