As someone who's read books to his children and (more recently) his grandchildren, I'll offer my thoughts about books for the very young. Here I'm considering books for children who haven't begun to speak yet.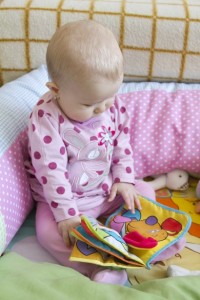 I believe the writer and reader of such books share a profound duty, one they shouldn't take lightly. They work together to create an experience, from a first and indelible impression to a repeated pattern that becomes an ingrained habit. Their shared purpose has several facets:
To entertain

. This is not as important for this reading audience as it will be when they get older. Perhaps I could have phrased it as "To avoid boredom."
To teach vocal communication

. The child needs to understand the one-way vocal transmission of thoughts and ideas. Sure, you don't need a book for that, but the book provides something to look at while the speaking/listening communication takes place.
To transmit the joy of human story-telling

. It's a primal human trait; we tell stories.   We convey life lessons through the use of characters, which make the lessons clearer. We pass down the stories through generations, and that strengthens an understanding of ancestors and the past.
To imbue a love of books and reading

. At some point the child will realize the book always opens the same way; the pages are always moved one at a time in the same order; the book doesn't change from one reading to the next; and there must be some connection between the funny little marks and the sounds the reader is making. The child should come to see reading a book as a quiet, comforting experience.
The reader has a huge part to play in accomplishing these purposes. I think it's important to introduce books in brief doses. Don't even read the whole book at first. Gradually lengthen the time spent reading. In every case, you should finish before the child is ready for you to finish. In other words, don't associate reading with boredom. Needless to say, vary your voice pitch as you read, and read with dramatic emphasis.
Enough about reading. For the writer, you have only pictures, words, and book layout to work with.
Pictures

. At first, the child will know your book only through the pictures. Make them bold, colorful, and immediately obvious.
Words

. The child won't understand the written words, but will experience them by listening to them. Use short, simple words.   Make use of rhyme, rhythm, alliteration, and onomatopoeia. Use words that sound good together.
Book Layout

. Consider cloth or plastic pages for early books, or a thick grade of paper. Don't put too many words on a page; make the reader keep turning pages frequently.
Another thought on book layout—as the shift to e-books continues for adults, e-books will soon appear for adults to read to small children. From what I can tell, the ones available now still have real pages to turn, and the book narrates its own story without needing an adult. I think there would be value in a sturdy e-reader able to display pictures and text, but requiring an adult to read it.
Whether you write books for little tots or read books to them, please take the task seriously. If you do it right, you'll spark a love of reading. If you do it wrong, the child will forever consider reading boring. Thank goodness Mom and Dad did it right for—
Poseidon's Scribe