What a great weekend! I was at Chessiecon, a science fiction/fantasy conference near Baltimore. In case you missed it, here's the recap:
I moderated a panel on "Gadgets in Fiction." We discussed how it's easy to get too passionate about your faster-than-light drive or the workings of your hand-held ray gun, but your audience doesn't want a textbook. How do you share your geeky idea without straying into too much? When does over-reliance on gadgetry start to take away from the plot and characterization?
The talented and knowledgeable panel members were Martin Wilsey, Nicole "Nickie" Jamison, and Steve Kozeniewski. They had some great ideas about how to discuss and describe gadgets in your fiction without boring readers.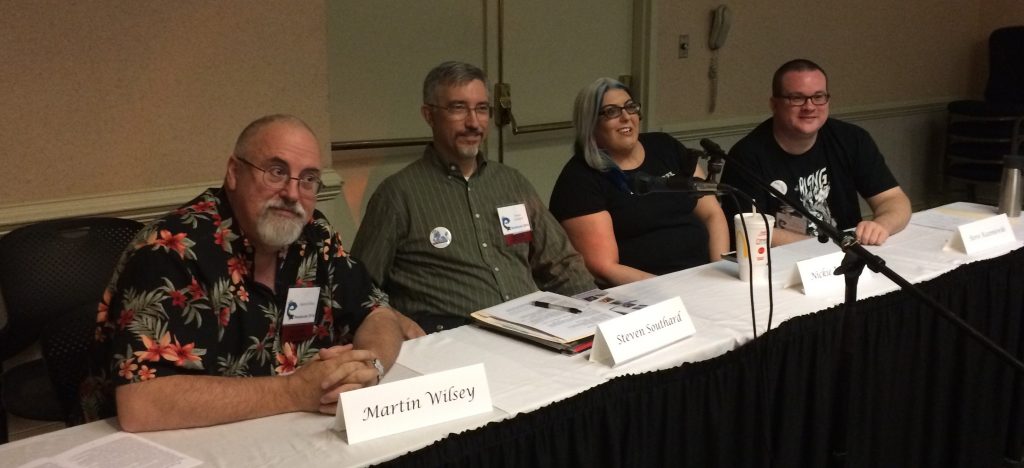 Later, I moderated another panel called "Care and Feeding of Critique Groups." The blurb for that panel was—participating in a critique group can be a great way to improve your writing. Not all such groups work out well, though. The panel will discuss ways to keep a critique group helpful, vibrant, and long-lived.
My willing and able panel members were Danielle Ackley-McPhail, Jay Smith, Margaret Carter, and J.L. Gribble. It became obvious to me that critique groups come in all sizes, shapes, rules, forms, etc. The keys to success appear to be setting expectations, actively participating, being fair in providing critiques, and being thick-skinned in receiving them.

All that was Friday. On Saturday, I moderated yet another panel, this one called "Dive! Dive! Submarines in Science Fiction." The idea of this one is that not all SF takes place in outer space. Panelists will discuss their favorite undersea fiction and undersea vehicles.
I called myself the Captain of this panel, and my crew was D.H. Aire, Leslie Roy Carter, Kelly A. Harmon, and Martin Wilsey. Sorry, no picture of this one. We had a great time discussing favorite science fiction submarines, and what sets submarines apart from other story settings.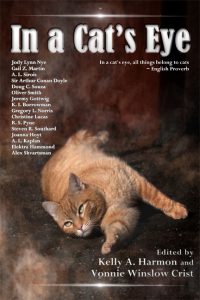 At my book reading, I read the entirety of "The Cats of Nerio-3," my story from the recently published anthology In a Cat's Eye. I hope the audience enjoyed the story at least half as much as I loved reading it.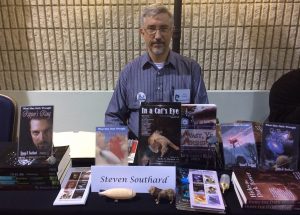 I had a fine time at the book signing later Saturday night. For one of the copies of In a Cat's Eye, the woman asked me to sign it to her two cats. First time I've done that! I hope her cats enjoy the story. I sold another copy to a young girl who just loves cats. I forgot to tell her and her mother that the stories in that anthology are a bit on the dark side. Oh, well…
All in all, a delightful weekend! It's fun to gather with fellow authors who write, and with readers who love, science fiction. It just warms the heart of—
Poseidon's Scribe
Please follow and like me: