An artistic acquaintance of mine has been making 3D printed models of vehicles and gadgets from my stories. Today I'll introduce another one she made, the mechanical clockwork lion from my book "Leonardo's Lion."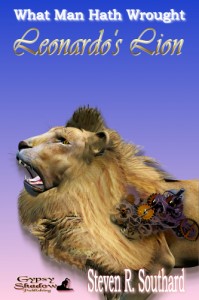 It's a modification of the one available on Thingiverse here, designed by YahooJapan. She added a cutout section showing gears inside. I painted the model myself.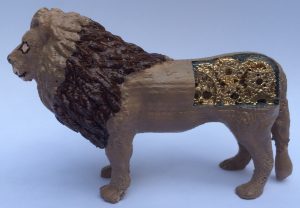 According to some accounts, Leonardo da Vinci made a working, mechanical lion. It was toward the end of his life when he was living in France. Records aren't clear, but the newly crowned King of France, Francois I, met Pope Leo X in Bologna on December 19, 1515. Either the lion was presented at that event, or was commissioned then and given to the king at a party two years later.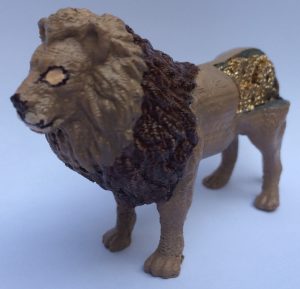 The lion could walk, move its head from side to side, and open and shut its jaws. It then sat on its haunches; its chest cavity opened, and a bouquet of lilies fell out. The lion was the symbol of Pope Leo X and lilies symbolized France, so this mechanism represented the strong bond between the two.
In our modern world of automated gadgets, it's difficult to imagine the effect such a lion would have at a party in the early 16th Century.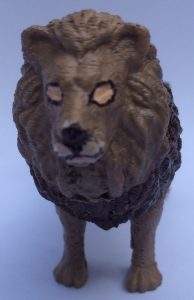 I got to wondering what might have happened to that lion afterward. My story, "Leonardo's Lion," takes place some fifty years later. The lion stands forgotten in a storeroom, hidden among numerous other gifts presented to previous kings.
A ten-year-old boy named Chev comes upon the lion after escaping an orphanage. He's able to get the automaton working, and is small enough to ride on its back. Inside the lion, he finds a message Leonardo had meant for King Francois I to discover, and a clue to a world-changing secret. Thus begins Chev's ride on the lion's back, through a country torn apart by warring religions.
In potential future improvements to this model, I'd love to have movable legs, a swaying head, and a seam for the chest cavity.
I welcome your thoughts about my model. Leave a comment on this post for—
Poseidon's Scribe
Please follow and like me: