Imagine discovering a fellow fiction writer at the place where you work. You find someone who, like you, works a day job in your building but authors books on the side. That happened to me recently, and I just had to interview him.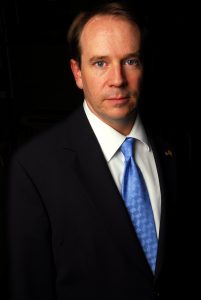 James Slater works at the Washington Navy Yard. He authored the short stories Tuck, Bishop Takes Night, and Ten Bucks, each published in book form. Most recently, he's written a science fiction novel, Claustrom, the first book in a planned trilogy.
Let's get to the interview:
Poseidon's Scribe: Who are some of your influences? What are a few of your favorite books?
James Slater: When I was in 3rd grade, my family moved out of the city to a 4-acre property in the country in Western Washington state. It was a beautiful place, but both to my benefit and my disappointment, we had no TV signal there. I filled my spare time with reading and music, and the talents I developed as a result have served me throughout my life.
I guess I've always been drawn to mystery and adventure. Treasure Island; 20,000 Leagues under the Sea; and Tom Sawyer/Huckleberry Finn were all books I read more than once. When I was in elementary school, I read all the Hardy Boys books the library had on the shelf. Oh, and can't forget to mention Sherlock Holmes and Agatha Christie. I was quite intrigued by The Murder of Roger Ackroyd. Now, I didn't read that one again, and I won't spoil it, but once you understand the twist, the novelty is gone. I was quite enamored with Catch 22. More recently, The Patrick O'Brian Master and Commander series and Lee Child's Reacher books became obsessions.
P.S.: How did you come to love science fiction?
J.S.: If I remember correctly, my first science-fiction-esqe books were the Chronicles of Narnia. The fantasy of other worlds and other dimensions tickled something inside my mind. Then I read Isaac Asimov's Foundation Trilogy. And I couldn't put it down. I think that's the series that hooked me. I began to scan the library shelves for sci-fi authors and read everything they had to offer. I pretty much always had a book with me. The amazing possibilities of space travel fascinated me. We'd put a man on the moon, and I was sure amazing breakthroughs were just around the corner.
P.S.:    What are the easiest, and the most difficult, aspects of writing for you?
J.S.: The easiest thing to do for me is just to write. On the days that I've decided to write, I always set a goal of writing 500 words, and once I start, I've never not achieved that goal. Often I double and triple that in a day. Now, the most difficult thing is closely related. And that's getting started. It's like a train. Once I've stopped, it really takes me tremendous energy to get started again. I struggle to budge that train, and usually my activities at work and home have an impact. I only have a finite amount of mental energy, and if I'm writing appraisals or if we're in the market for a new home (both turned out to be giant energy sinks), my writing batteries can't come up with the power to move that train an inch. But once I start and rediscover my writing muses, it's like the story takes on its own life–and me with it. I'm more like a transcriptionist, struggling to keep up with the storyline.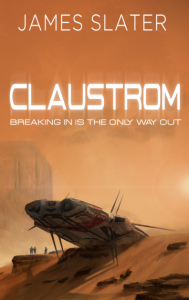 P.S.:    Please describe your novel, Claustrom. What inspired you to write it?
J.S.: Sure. I like to call it a science fiction adventure. It's set at the dawn of the third millennium and tells the story of three people, an accountant a security specialist and an heir to a mining fortune, who catch a ride back to Earth from a new high-tech construction project, New Manhattan. They run into some trouble and have to put down on the hostile surface of the prison planet, Claustrom. Each of them has talents and secrets, but only by working together, pooling their knowledge and talents, can they hope to make it home. I took the name from its Latin origins meaning a gate or an enclosure (think of a church's Cloister) and modified it incidentally as might happen over time, like words that evolve over the centuries. In the end, I liked the subtle suggestion within the name of both a "claw" and a "storm."
P.S.:    I understand Claustrom is Book 1 of an intended trilogy. When can your readers expect to see the second book?
J.S.: I'm about 80 percent done now with book two. I had intended this one to be a novella, a short prequel project started last November that would fill in some of the backstory of our Claustrom characters. It was supposed to be done by the end of November, but at the end of the month, the train was rolling. I couldn't stop it, so I went with it. Turns out, it will be a full novel, so I'm shooting for its release in early 2018. So much for the Trilogy, eh? Moving on now to embrace the Tetralogy. I've outlined the better part of book three, the sequel to Claustrom, which will introduce the final book in the series. I've not outlined that yet and only have a rough idea of how that will play out, but I'm really looking forward to getting started on book three. The current working title is Midway.
P.S.: Where do you get the ideas for your stories?
J.S.: Hmmm. Interesting question. First, I guess I have a pretty vivid imagination. I love to entertain the fantasy of the impossible. Or, at least, the impossible as compared to what we currently perceive as reality. See what I did there? What if I were independently wealthy? What if aliens did land on Earth? What if the Earth is a rest stop on some galactic highway? Second, as I go through my day and the half of my brain that's filling in plot holes and coming up with twists is aware and looking for new ideas. Here's an example. One of my co-workers is from Texas, and he was telling a story about wild cougars. So my brain asks, night there not be a giant cat-like creature on a distant planet? Why not? And maybe it has a hunger–you know, for people. So I wrote it in. But check it out. That's not the end of the story. I go to a writer's conference, and I'm talking to author Reed Farrell Coleman, a guy who knows a thing or two about rough crime neighborhoods. So he tells me about a crime organization in New York that used a big caged cat as part of their attitude adjustment strategy for those who owed them money. Now, the book was already done by this time, so I'd already envisioned and completed that type of a similar scene. Guess it just goes to show you. Just because you made it up, doesn't mean that someone hasn't thought of it–or tried it before. Lots of science fiction has already become reality.
P.S.: In what way is your fiction different from that of other authors in your genre?
J.S.: I think the thing I love most about good stories, especially mysteries, is that there's always something hidden. The parts almost make sense for a logical assessment of what has happened, but the protagonist, for some reason, doesn't believe it. Sometimes it's even just a single element. At the point where the secret is unveiled, the story and the stakes shift. Doyle and Christie were masters of this. Nothing makes sense until the end, and then it all falls into place. So, in addition to being an adventure, I like to have a puzzle to for the protagonist to solve. I love to read Lee Child because his protagonist, as smart and as powerful as he is, usually jumps to the wrong conclusion until he puts it all together for the finale. If the reader has figured it out by the end of the first act, the author has cheated everyone, including himself.
P.S.:    Both you and Poseidon's Scribe have day jobs at the Washington Navy Yard, and write fiction during your commute to and from work. What are the advantages and disadvantages of that writing process?
J.S.: I think the real advantage is that it gives me an hour or two each day without interruption to read, write, edit and plan. And when I'm on, it works really well. I finished my first book in seven months this way. I guess the real disadvantage is that with other personal, family and career projects and thoughts and emotions, I can easily either get distracted or exhausted. At the end of a day, and I'm on my way home, I may look at my laptop and think that I really want to log some words, but my creative fuel is already spent. Now, I know if I can get past the first few minutes, the writing will reach out and engulf me, but some days I need to read or to listen. Other days, I put on headphones and turn nothing on. Silence, like sleep, is a great rejuvenator for me. Then I'm looking for inspiration and creating energy, not depleting it.
P.S.: On your website, you mention that the Washington Navy Yard shooting in September 2013 influenced you toward becoming a published author. Please expand on the connection between that event and that decision.
J.S.: I think I always wanted to become an author. It was just that my vision of an author was someone who made a living by writing books and had nothing else to do. Now I do a good amount of writing in my current position and had always used the excuse that I'd written so much that I was too tired of writing to write. Looking back, I think that was probably my own code for, "I don't know how." I mean, I joked about putting people in my book when they'd do something odd or spectacular. Then the shooting. It affected a lot of people in a lot of different ways. For me, it brought me face-to-face with my own mortality. I realized that if I waited until I retired to start writing a book, I might never finish it. So I started reading. I read like a fiend for a year. Fiction and non-fiction. Some sci-fi; some mystery; some literature. In sci-fi, I wanted to see what I was up against. Amazon now gives you that sneak peak? So I started walking through the latest and greatest contributions to science fiction. The more I read, the more my confidence grew. Clearly there were greats to contend with. John Scalzi. James A. Corey–who is actually two authors–and Ernest Cline. I loved Ready Player One. Oh, and Andy Weir with The Martian. But on the whole, the genre was littered with trash. In my opinion anyway. And I could tell by reading the first chapter. So I realized, suddenly, that not only did I have the desire to write a book, I had limited time, and my talent was, at the very least, on par with other, more established writers in the genre. I think that realization made it possible.
Poseidon's Scribe: What advice can you offer aspiring fiction writers?
James Slater: I think there are two things. To me, an aspiring fiction writer is someone with both writing talent and a vision. My assessment is that there are many folks out there who would sell the dream of becoming a writer and would do so through selling books about becoming an author. For those, I recommend an approach with a skeptical eye. If it seems too good to be true, it probably is. Lots of people can sell books. Few can write them.
That said, I think writers should dedicate a good bit of time to reading. If you don't have time to read, you certainly don't have time to write.
Second, follow the rules. Novels follow a really standard structure. Following this structure will help bound the project and serve as the first step in breaking the project down into manageable bites.
Third. Write. Follow your structure. Express your style. Don't stop. Even if it's just a few sentences or some ideas, keep the effort going. Do it on a regular basis. It will ebb and flow. That's a normal part of the process. You'll get distracted. You'll get off track. You'll get blocked. Join a writer's group. Expect criticism and welcome it. It's a different point of view. Value it, but don't let it cripple you.
I guess the final piece of advice is not to psych yourself out. Writers often bump into great barriers of self-doubt. There's a lot of trash out there passing as literature. But if you want to be a writer, you have to write and you have to publish. If you're struggling to make your book perfect, think of yourself not as an author, but as a perfectionist. Writers write, so think up a great story. Write it. Publish it. Then do it again.
Thanks, James. Great answers, and I hope to see you around the building.
Interested readers don't have to go to the Washington Navy Yard to learn more about James. Check out his website and his Facebook page.
Poseidon's Scribe
Please follow and like me: