Every week this blog reveals deep, mystic secrets about how you can become a best-selling author. See what you've been missing by posting cat photos instead of checking out my site?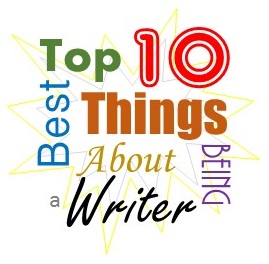 But why should you want to be a writer in the first place? That is a question never answered in any of my posts…until now.
I interviewed every author on this planet (had to limit it, I only had a week), and compiled each of their reasons for being a writer into a vast database. Then I used artificial intelligence software to analyze those data and order the list by response frequency.
Either that, or I made up some reasons myself. One of those two methods, for sure.
Without further agonizing delays or obvious stalling tactics, I present, in the style of David Letterman, my Top 10 List of the best things about being a writer:
#10. Friends aren't just friends—they're character ideas.
#9. Free hobby; it only costs your time…and your sanity.
#8. Don't like this world? Create your own.
#7. Get back at your Language Arts teacher by breaking rules she taught you.
#6. Commit crimes, but don't do the time. (So long as they're fictional crimes.)
#5. Free exotic vacations! Well, you go there in your mind, but you can visit outlandish places, like Antarctica, the Moon, the year 1850, Imaginationia, or even New York City.
We're down to the top 4 best things about being a writer:
#4. Built-in excuse for insane behavior. "You're a writer? That explains it. You're free to go."
#3. What other people call loafing, you call working.
#2. Sweet revenge on everyone who's ever wronged you. Kill 'em in your books.
And the number one top best thing about being a writer:
#1. Writer's conferences—in the wee hours, hijinks ensue. A few shenanigans also.
If that list doesn't make you want to be a writer, then you'll have to make up, I mean compile, your own. Or you can go back to posting cat photos, it makes no difference to—
Poseidon's Scribe
Please follow and like me: