My series of interviews with intriguing writers continues today; author A.L. Kaplan happened to stop by the sprawling complex of Poseidon Scribe Enterprises, Inc. Like me, she has a story in the anthology In a Cat's Eye, but unlike me, she's written a novel. Star Touched will launch on October 1st; that's tomorrow!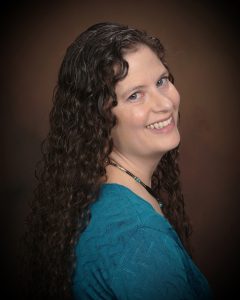 A.L. Kaplan's stories have been included in several anthologies, including in several anthologies: In a Cat's Eye, Young Adventurers: Heroes, Explorers, and Swashbucklers, and Suppose: Drabbles, Flash Fiction, and Short Stories, as well as Indies Unlimited's 2014 & 2015 Flash Fiction. You can find her poems in Dragonfly Arts Magazine's 2014, 2015, and 2016 editions, and the BALTICON 49 and 50 BSFAN. She is a past president of the Maryland Writers' Association's Howard County Chapter and holds an MFA in sculpture from the Maryland Institute College of Art. When not writing or indulging in her fascination with wolves, A. L. is the props manager for a local theatre. This proud mother of two lives in Maryland with her husband and dog.
Now for the interview:
Poseidon's Scribe: How did you get started writing? What prompted you?
A.L. Kaplan: For as long as I can remember, I've created stories. When I was young, these ideas would keep me up at night as I rewrote them in my mind multiple times. Getting words on paper was a whole other ballgame. I couldn't figure out how to get all those wonderful speeches from my head into the written word. My 'artistic' handwriting and 'creative' spelling got in the way. For some reason, my teachers just didn't appreciate that kind of creativity. It wasn't until college that I finally gained the confidence (and an introduction to computers) to write creatively. Finally, I could get all my ideas out, not just the still images I used in my art.
P.S.: Who are some of your influences? What are a few of your favorite books? 
ALK: Where to start? I've always loved reading. I grew up reading James Herriot, Jack London, Laura Ingalls Wilder, Albert Payson Turhune, and of course J. R. R. Tolkien. Lord of the Rings may have birthed my love of fantasy, but there are three other books I read that were a huge influence: Island of the Blue Dolphins, My side of the Mountain, and Julie of the Wolves.
P.S.: Where do you get the ideas for your stories?
ALK: Many of my ideas come from dreams and nightmares, but I've drawn inspirations from songs and pictures as well.
P.S.: On your website, you state that you're the props manager for a nearby theater. Has that experience helped with your writing? Do you find it easy to describe props in your stories, for example?
ALK: Some of the props I've needed to find or make required a bit of research, so yes, it has helped with some descriptions. One of my favorite props was the intestines I made for Little Shop of Horrors. They looked awesome and were fun to make.
P.S.: What are the easiest, and the most difficult, aspects of writing for you?
ALK: Ideas are easy. Finding time is always a challenge. Marketing is a pain in the butt.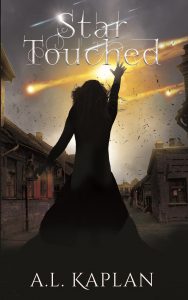 P.S.: What prompted you to write your novel Star Touched (which has a great cover, by the way)?
ALK: Star Touched was born from a series of nightmares with huge waves of water, giant fireballs, and unusual abilities. The story grew from there.
P.S.: There are lots of dystopian YA novels out there. What makes Star Touched different?
ALK: Star Touched is more than a book with a somewhat dystopian world. Sure, it's rough living and people have been forced to do thing to survive this new crazy world. But it's not all bad. Some places have held onto or rebuilt peaceful societies. Then there are the star-touched who can access earth energy and do some amazing things. In biblical times they may have been called miracles, or magic. That kind of power scares people. The constant persecution makes survival even harder for the star-touched. There are good people and bad people in this world. How they react to different situations can bring out which side of the spectrum the land on. Are they going to work together with their neighbors and help each other? Or are they going to loot the town, grab whatever they want even if it hurts others. It's a constant battle.
P.S.: Do you plan a sequel to Star Touched?
ALK: Yes, a sequel to Star Touched is in the works.
P.S.: Star Touched launches on October 1st. Where should readers go to get it?
ALK: You can find Star Touched at Amazon, Barnes & Noble, Books-A-Million, and Kobo.
P.S.: Aside from your novel, you also write flash fiction. That sure covers the long and the short of things. Not too many authors are skilled with both those extremes. How do you manage it?
ALK: I started writing flash fiction for a weekly contest as a writing exercise. At the time, I'd only written novel length works. Keeping a story 250 words or less isn't easy. It forces you take a good look at all your word and get rid of extras. Once I figured it out, it helped make all my writing more concise.
P.S.: Your website mentions a fascination with wolves. Really? Wolves?
ALK: When I was in high school I had a dream about wolves. The next day I went to the library and started reading. The more I learned, the more I liked. My collection now includes books, art, toys, and a few odd things like a howling cookie jar. Wolves have also inspired several stories, including my short story, "Wolf Dawn," which is in the Young Adventurers: Heroes, Explorers, and Swashbucklers anthology.
One added note: I love wolves, but have no illusion of what they are — wild animals, hunters. I've met people who have had wolf/dog hybrids and have been lucky enough to have a great companion. For every story of a good hybrid pet, there's another about an uncontrollable animal. A wolf is not a domestic dog. They think and behave differently. Think very carefully before you consider taking on the responsibility of adopting a hybrid. I opted for an Alaskan malamute – wolf like appearance in a domestic dog. If you'd like to learn more about Praeses, check out For the Love of Canines: Praeses parts 1 and 2 on my website.
Poseidon's Scribe: What advice can you offer aspiring writers?
A.L. Kaplan: Don't let anyone tell you that you can't succeed. You can, no matter how tall the roadblock. Follow your dreams and always travel with some method to record your words. You never know when inspiration will hit you.
Thanks for the interview, A.L., and best of luck with Star Touched! For readers of my blog, please be sure to find out more about A.L. Kaplan at her website, on Twitter, and Facebook. Also sign up to receive her newsletter.
Poseidon's Scribe
Please follow and like me: