Each of us is born creative. Some lose their creativity along the way. If you'd like to write fiction, but don't think you're creative enough, I believe you can increase that attribute through effort.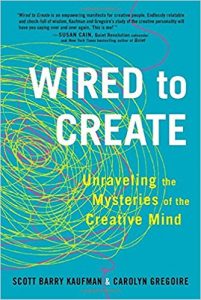 Researchers Carolyn Gregoire and Dr. Scott Barry Kaufman developed a list of habits practiced by creative people. In their book, Wired to Create: Unravelling the Mysteries of the Creative Mind, Gregoire and Kaufman introduce and discuss those habits.
However, if you're trying to improve by practicing good habits, it's difficult to work on ten all at once. In his self-improvement efforts, Benjamin Franklin tackled just one habit per week. Therefore, I took the ten habits from the Gregoire and Kaufman book and rated them according to how important they are to becoming a better fiction writer. That way you can concentrate on one at a time in your creative journey.
I'll present each of the habits in reverse order of importance, like any good Top Ten List. The order of the list is mine; other authors might disagree. Each habit is important, and all worth doing. You'll find you do some already, so you won't have to work on those.
10. Turning Adversity into Advantage. It's good to develop your ability to accept failure as part of the process, to learn from it, and to move on. As a writer, your stories will get rejected; some of your books won't sell; some marketing ideas won't work; your stories will receive bad reviews. You'll need to use these misfortunes to improve. As important as this habit is, I judged it the least necessary for developing the type of creativity needed by fiction writers.
9. Solitude. Writing fiction is a solitary endeavor. Creative people need to be able to tune out the world's noise, to enjoy being alone without feeling lonely. That can be difficult for extreme extroverts. Still, it didn't rate high on my list, since it's not a habit you'll need to practice before you can write. Just write, and you'll soon get used to being alone.
8. Intuition. As you assemble words into effective sentences, expressive paragraphs, and enjoyable stories, you won't have time to reason out what works best in every case. Most often you'll have to go with your gut. This habit is low on the list because it's hard to practice (try setting out to be more intuitive today) and because it should develop naturally the more you write.
7. Daydreaming. All writers do this. They let their mind wander in unfocused thought, free to go where it will, perhaps to see things anew or to connect the unconnected. The only reason this habit isn't higher on the list is its low degree of difficulty, for most people.
6. Sensitivity. It's valuable to be aware of the world and to understand the connections between outside events and your own mood and feelings. You can use that ability to create characters readers will love. For some, this comes naturally but others have to work on it.
5. Passion. There has to be an inner fire, some powerful force driving you to tell a story, to sustain you through the times when writing seems too hard. It's not an easy habit to practice, though. Moreover, once you experience the success of selling a story, your passion to write more will increase on its own.
4. Openness to Experience. Your muse must be fed, and her diet is experiences. You have to get out in the world, explore new places, meet new people, try new activities, break down the doors of your comfort zone. This is easy for some, but others have to work at it.
3. Mindfulness. A creative person can focus, can think about the world, can think about feelings, and can think about thinking itself. Unlike daydreaming, this is directed, intentional. This is the usual state of writers when writing.
2. Thinking Differently. Creative folks disdain norms, shun convention, and strive for originality. They adopt a unique perspective, and break out of the everyday. Fiction writers must do this, to craft stories that will interest and delight readers. There's a reason they call them novels, after all.
Drum roll, please. And now, the #1 habit of creative people, the one most important to fiction writers…
1. Imaginative Play. Remember your childhood games? You'd build crude replicas of things that would be huge and perfect in your mind. You'd imagine situations, assume a role, and play it out. No constraints, no rules, no limits. Your mind would ask, "what if…?" and off you'd go. Fiction writers either never outgrow that habit, or find a way to renew it through practice. It's the essence of creative writing.
You already know what to work on, don't you? You've identified the most difficult habits on the list and you're set to practice them. Soon you'll be tapping into hidden reservoirs from which your creative juices will flow. Good luck, Writer, and please take a moment along your wandering, creative journey to leave a comment for—
Poseidon's Scribe