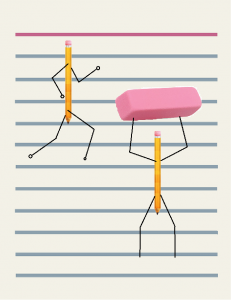 Writers exercise like everyone else, I suppose–when it comes to their physical body.  Today, though, I want to consider how writers exercise their writing skills.  Early in life we learn the secret to getting better at any skill–long hours of practice and exercise.  Sadly, writing is no exception to this.
1.  The first step in a writing exercise program is to identify your weak area, or areas.  You can get a feel for these from your critique group, from any comments received from editors as they reject your manuscripts, or from honest self-assessment.  By area I mean some aspect of writing such as characters, plot, setting, the hook, thinking of story ideas, tension, pacing, active vs. passive verbs, conciseness, etc.  Chances are, there's at least one aspect of your writing you wish to improve.
2.  Next is to assign yourself an exercise, and do it.  The point is to focus on your weak area and just try different things, explore different solutions.  You'll be writing just for yourself here, so there's no pressure; give your inner editor the day off.  If your problem is weak setting descriptions, for example, you could write a description of your neighborhood or describe a setting from a picture, or re-describe a setting from literature.  Then write several other descriptions of the same setting, but using different tones.
You get the idea.  This is your creative mind at play.  The time spent counts toward the 10,000 hours you've got to put in.  Permit me a strange metaphor here.  Imagine you're shoveling manure from a truck and spreading it on a field.  The field is vast and the trucks keep coming with full loads.  You do this all day, then many days, then years.  At one point you pause, leaning on your shovel's handle, and gaze out at the field and see a single plant, a flower, growing in the field of manure.  The rough ground beneath could never have supported that flower–it could only grow after all the shoveling you did.  That's writing.  The manure represents your exercises and early stories.  The flower is your first successful publication.
As you do your exercises, don't critique yourself at first.  Give your writing free rein.  Use the brainstorm technique.  Consider using mind-maps.  If the weak area lends itself to this, practice many (say ten or twenty) solutions to each problem.   If you like some of your solutions, feel free to alter, refine, or hone them.
3.  After you've done some exercising, review, reflect, and analyze what you did.  Which techniques worked?  Which didn't?  This assessment should reveal whether you're on the path to improvement or not.
4.  Last, what do you do with all the residue from your exercising?  Keep the flower; discard the manure.  Chances are, you've got something beautiful there you can use in a story.
I can hear some of you objecting to this technique already, before you've even tried it. Steve, you're saying, we beginning writers are always being told to write, write, write.  Now you're saying to take a break from that and do these silly, and time-consuming, exercises?  Don't the exercises take valuable time away from writing stories?
Yes, they do, in a sense.  They take time away from story-writing in the same way sharpening a saw takes away time from 'sawing' with a dull blade in the Stephen R. Covey example.  Think about that. You're saying you don't have time to learn to write well because you're too busy writing garbage that won't sell.
So conjure an image of the roughest, most dedicated coach, gym instructor, or drill sergeant.  Hear that image yelling at you to exercise, to give him more push-ups, to run another lap?  What are you waiting for? You do want to improve your writing, don't you?  Try exercising, then whether you believe it worked or not, leave a comment for–
                                                                             Poseidon's Scribe