Science Fiction pioneer H.G. Wells was born September 21, 1866, 150 years ago. Although he died in 1946, his works live on and inspire us today.
The novels of his I've read include The Time Machine, The Island of Dr. Moreau, The Invisible Man, The War of the Worlds, The First Men in the Moon, and The Sea Lady. Most of those remain classics today.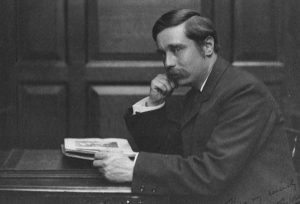 As readers of my blog know, my main author-crush is with Jules Verne, but Wells gave us several archetypal story themes and ideas that Verne did not explore.
The two authors approached their writing differently, too. Verne strove for scientific plausibility and accuracy, but Wells concentrated on telling a good story and gave only a passing nod to the science.
After Verne read The First Men in the Moon, which includes an anti-gravity substance named cavorite, he wrote, "I sent my characters to the moon with gunpowder, a thing one may see every day. Where does M. Wells find his cavorite? Let him show it to me!"
Despite my preference for Verne's stories, I have to say, "Lighten up, Jules. If a scientist does invent an anti-gravity mechanism, your criticism will look antiquated. Further, you knew your gunpowder cannons couldn't really launch men to the moon when you wrote From the Earth to the Moon, so you're not a paragon of accuracy, yourself."
As discussed by Steven R. Boyett, this dichotomy between scientific exactitude and telling a good story with a smattering of sciency stuff persists today in the arguments between hard and soft science fiction.
Returning to Wells, you do have to overlook his personal life and philosophy as you read his books. A believer in socialism, anti-Semitism, and eugenics, he also led a sex life that was, well, complicated. Fortunately, his early, less philosophical works don't give hints of any of this.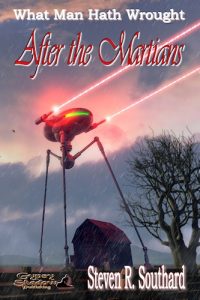 My readers know that Wells' The War of the Worlds inspired my own story, "After the Martians," so I owe him a great debt.
So, happy birthday, Herbert George Wells! Your legacy is looking great after all these years. Your works remain classics today, read and enjoyed by millions, including—
Poseidon's Scribe
Please follow and like me: