Strange term, that 'Deus ex Machina.' All it means is 'the god from the machine' and if your story's got one, you probably don't want it.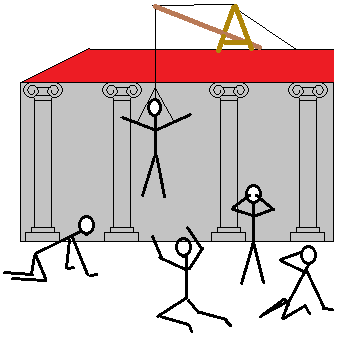 Although the concept comes to us in its Latin wording, it dates from the plays of Ancient Greece. Performed in amphitheaters, these plays sometimes featured an actor playing the part of a Greek god, who would descend into the final scene apparently from the sky by means of a crane with ropes. The 'god' would solve the play's central problem by means of magical powers.
Over time, the phrase came to mean the late and unexpected introduction in a story of a character, ability, or object that seems to resolve the story's conflict in some miraculous way.
     Not Recommended
You'll want to avoid Deus ex Machina (DEM) in your stories because it's the mark of an amateur writer. You get positive points for burdening your protagonist with difficult dilemmas to solve. But you lose those points and more when you've painted your hero into a corner and you can't get her or him out without resorting to some external savior entering the action at the end.
The presence of a DEM cheats the reader, who is expecting a story about the human condition.  The reader has, therefore, invested some emotional energy in your protagonist, following that hero along through all the conflicts, both external and internal. The reader is wondering how your protagonist will prevail. To introduce a DEM, therefore, is jarring and disappointing.
     Difficult to Avoid
Sometimes you're working along with your manuscript and you find you've put your protagonist in such trouble that, try as you might, you can't think of a way out. You like the story otherwise, and really don't want to rewrite in a way that lessens the difficulty and allows your hero to win the day through innate virtues.
These are the times you might be tempted to call in the aid of a DEM. Again, for reasons noted above, it's best not to do so. In most cases.
     When It's Right
In the hands of a master storyteller, DEMs can work in two situations I've discovered: (1) when the author is making a larger point, and (2) in comedies.
For example, in Edgar Allan Poe's story, "The Pit and the Pendulum," the French army conquers the town, enters the Inquisition, and frees the narrator from his horrible prison. But Poe is making a larger point about life and the freeing of the soul to enter heaven when the clock (pendulum) of life ceases.
In H.G. Wells' novel, The War of the Worlds, it's true the invading Martians are defeated by tiny bacteria. But Wells is making a statement about Britain's encounters with cultures having primitive technology. He's saying that, but for the microbes, even mighty Britain would have been annihilated.
In Monty Python's movie "Life of Brian," Brian is saved from a deadly fall by a passing alien spaceship. The DEM literary device is used here for comedic effect.
     A Final Example
If you're really, really good, go ahead and use a Deus ex Machina. Otherwise, best to avoid them. Let your characters figure their own way out of their jams.
Hmm, as I write this, I have no idea how to end this blog post.
Enter Poseidon, appearing out of nowhere.
Poseidon: "Silly mortal. Just write 'Poseidon's Scribe' below your other babbling text, the way you've signed off every other post."
Me: "Oh, hehe. Thanks Poseidon. You mean like this:
Poseidon's Scribe."
Please follow and like me: