Yeah, I know the records say you've been dead since 1988, but I figure you found or inherited some way to cheat the reaper, like your character Lazarus Long did.  By some weird and inexplicable means, I think you could be reading this.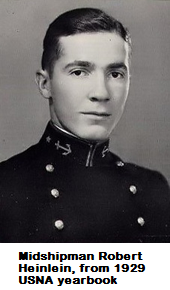 Over my lifetime, I've read several of your novels and short stories.  In my high school and college days, I read "By His Bootstraps," Time Enough for Love, Star Beast, The Man Who Sold the Moon, Starship Troopers, Stranger in a Strange Land, Farnham's Freehold, and The Number of the Beast. In later years I read Friday, Grumbles from the Grave, and The Moon is a Harsh Mistress.
I'm not sure what it was about your work that stuck with me most.  Maybe the cool future technologies.  Perhaps the gritty, wise-cracking, rough-and-ready characters, all of whom pulled themselves up from humble backgrounds.  The writing style, full of well-turned phrases, could have been part of it.  Or possibly the hard-nosed, no-excuses, freedom-loving philosophy undergirding it all.  I can't say, and likely I'll never know.
Though I didn't realize this until later, there is some similarity in our backgrounds, yours and mine.  I was born about fifty years after you, but also grew up in the Midwest, also graduated from the Naval Academy with an engineering degree and also served in the Navy.  After leaving the service, both of us turned to writing fiction.
I'm not comparing my writing to yours, just pointing out reasons I can relate to your life experiences.  After I began writing, I began to appreciate your approach to authorship even more.  I liked your rules for writing with their linkage of hard work to eventual success.
I also began to see how different a writer you were from some of my other author heroes.  Jules Verne lucked into a new field; no one else was writing science fiction.  Isaac Asimov took the established model of the time (publishing short stories in pulp magazines) and churned out an enormous output following that model.
By contrast, you rejected the status quo and uplifted the whole genre.  You believed science fiction should be regarded as respectable literature and worked to bring that about.  Your success benefitted not only you, but other authors too.  Without question, your stories inspired generations of engineers, scientists, and writers.
When I pondered over my own portfolio of published work, I had to confess I didn't see the Heinlein influence there.  My story themes and characters differ quite a bit from yours.  But when I thought about it more deeply, I realize now what I took from your example wasn't a writing style, but the hope that a guy like me could sell stories.
For inspiring me to be a writer, not necessarily to write like you, thanks.  And if you don't mind, I'll ask a favor.  How about taking time off from shaking up the status quo in your current plane of existence, to sprinkle just a bit of your writing talent on—
                                                              Poseidon's Scribe