Remember 'Dave' from the Staples™ TV commercial from a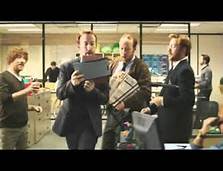 few years ago?  The guy walked into an office where everyone looked suspiciously like him, and they all greeted each other by saying, "Dave."  The commercial closed with the voiceover saying, "In a small business, it's all you."
If you're a writer these days, you're much like Dave.  After all, in your corporation of one, you fill the following positions:
President.  Congratulations! You made it to the top, the big cheese, the high muckety-muck.  The company bears your name.  You're praised when it succeeds, and blamed when…well, let's not focus on that.
Vice President of Purchasing.  In days gone by, this job entailed keeping your business furnished with a functional typewriter, paper, pens, a nice desk, and a comfortable chair.  Now the job responsibilities have shrunk to ensuring a functional computer and a solid Internet connection.
V.P. of Research & Development.  This is one of the best jobs in the company, the department doing all the research for your stories.  If you write historical fiction, this is particularly important.  It's so much fun, however, that this job will take over your company if left unchecked.
V.P. of Contracting.  You may not be a lawyer, but you're going to have to know some basics about contracts.  Just reading the darn things can be tedious—nothing at all like reading fiction.  Once you sign, you're bound by that agreement.
V.P. of Production.  Finally, a fun job.  This is the one you signed up for.  You manage the mental machinery that takes ideas from the R&D department, plus some coffee, and produces polished prose.
V.P. of Marketing and Sales.  Your company won't promote itself, that's for sure.  If you contract with a big publishing firm, they'll take care of this, but with smaller publishers or with self-publishing, you've got to get your name out there by yourself.  You've got to work the social media, speak at conferences, arrange book signings, etc.
Chief Financial Officer (CFO).  Unless you've got someone else handling the books, the ledgers, the taxes for you, it's up to you.  Skill in accounting doesn't always go hand in hand with skill in writing, so your on-the-job training better not take too long.
V. P. of Customer Service.  When your customers (readers) complain about the product, to whom do they turn?  You.  Although there's no need to respond to negative reviews, you should respond to comments on your blog posts, and e-mails from readers.
All those fancy job titles lose some luster when they're combined in one person, and that's you.  However, look at the bright side:  decisions get made quickly in your company of one.  All those departments see eye-to-eye; they're on the same page, so to speak.  No in-fighting, no hidden agendas, no stabbing in the back.
Unlike the conclusion of the commercial, there is no Easy button to push.  Purchasing is the only department Staples™ can help.
However, there are Help buttons, many sources of information to help writers figure out all these specialized jobs.  In fact my blog is dedicated to providing that information.
So, 'Dave,' get back to work.  It's all you.  And I'll return to my work, too.  At my company, it's all—
                                                          Poseidon's Scribe