You really, really wanted to be a well-known author. You did everything right; you devoured books about writing; you read every blog post by Poseidon's Scribe; you joined critique groups; and you went to writers conferences. Most of all, you wrote all the time, turned out stories and sent them to all the markets…
…and got only rejections, no acceptances.
Undeterred, you turned to self-publishing. These days, who needs an editor or publisher, right? You became an "indie" author…
…and sold nothing.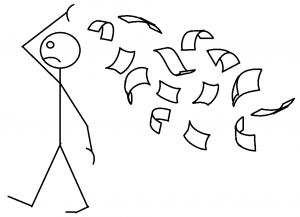 Now you're wondering if you're cut out to be an author. You're wondering if you should quit.
After all, there have been other times when you hoped to be good at something, tried it for a while, and gave it up—those guitar lessons, those pre-med classes you took in college, high-school basketball, the internship in the law firm.
Sometimes it takes a few tries to find out where your talents are. There's no shame in trying something and finding out you just can't do it. Now it looks like you'll have to add 'famous author' to the list of jobs you're not suited to. Just one more item on the list, that's all.
But you're torn. You know that the 'famous author' thing is partly about luck. Maybe mostly about luck. What if your next book is destined to be your breakout book, the one that propels you to best-seller lists, fame, huge advances, and movie deals? You'd hate to quit writing when you're just one book away from all that.
How do you know when it's time to give up? Lucky for you, you surfed to the right blog post. I'm going to give you a simple equation. Here it is:
A + B – C = D
A = All-consuming inner drive to write for its own sake.
B = Belief that you want to be a famous, successful author.
C = Cumulative frustration with the rejections and lack of sales
D = Decision factor.
Simply figure out the values for A, B, and C and plug them in. If D is positive, stick with your writing. If D is negative, it's time to quit and find something else.
(Yeah, I know it's subjective. What do you want from me, a calibrated quit-o-meter?)
Let's work through some examples. The horizontal axis is time. The vertical axis is the strength or intensity of each equation term. You might start writing without much drive to write for its own sake (A), but more of a belief in achieving fame and fortune (B). Most often, those reverse over time as the realism of the writing profession sinks in, while frustration accumulates (C). Remember, as long as D stays positive, you'll keep writing.
Obviously, the key variable is A, the all-consuming inner drive to write for its own sake. So long as that stays greater than the cumulative frustration, you'll stick with it.
So there you have it, an explanation that's all scientific and mathematical. With an equation and everything. Are you going to argue with respected scientists and mathematicians?
You can read some great advice on the subject of whether to give up writing by Jane Friedman and Kameron Hurley (guest-posting on Chuck Wendig's site).
May you meet with enough success in your writing that you won't have to face a decision about whether to quit or not. That's the fervent hope of—
Poseidon's Scribe