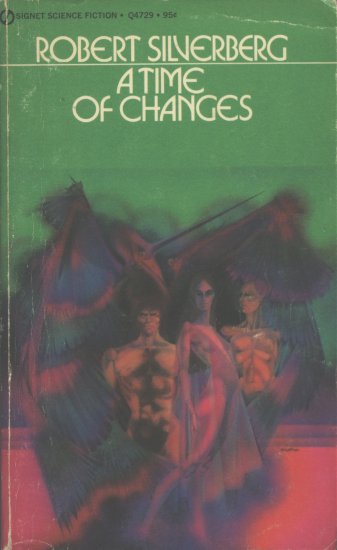 I've enjoyed other books by Robert Silverberg (Roma Eterna, Letters from Atlantis, and Gilgamesh the King) and so had high hopes for A Time of Changes, published in 1971.  After all, it won the Nebula Award in 1972 for best science fiction novel.  I listened to the Recorded Books version, their Sci-Fi imprint, read by Pete Bradbury.
The blurb for the book stated it takes place on another planet where the use of "I" and "me" or any self-referring pronouns is blasphemy.  For me, that brought to mind Ayn Rand's Anthem and Yevgeny Zamyatin's We, both novels about civilizations that forced people to think of themselves only as part of a collective, not as individuals.
But that's not exactly the case with the planet Borthan, where the protagonist, Kinnall Darival, lives.  It's a bit more complicated.  In most areas of the planet, people live under a centuries-old Covenant which forbids people from sharing personal thoughts with anyone, with two exceptions.  People may share any thought with a "drainer," a religious authority who is paid to listen; such unburdenings of personal feelings is meant to be cathartic and bring a person closer to the gods.  Citizens may also share thoughts with "bond-kin;" these are a pair of unrelated people of the same age assigned to each person at birth.  People can share intimate thoughts with bond-kin but never become sexually intimate with them.
If this seems complicated, I agree.  But it seems Silverberg has created a world where love itself is cut in two.  People share sexual love with their marriage partners, but not emotional love.  The only outlets for emotional love are forbidden as sexual partners.
Silverberg fleshes out the world of Borthan in a thorough way, complete with geography, history, myths, and socio-governmental structures.  The tale follows the life of Darival as he finds a drug that can allow people to read each other's minds, and how he falls from being a wealthy prince to a fugitive outlaw.  I found the Darival character well-drawn, as were all the others.  Despite the complicated premise, the novel is easy to read.  Silverberg has a wonderful writing style–flowing and lyrical and yet precise in meaning.  Pete Bradbury does a fine job with narration.
However, I did find the premise difficult to believe.  The colonists from Earth who'd settled the planet centuries before set up the Covenant for religious reasons, apparently.  But their aim in separating emotional from sexual love is not clear.  Nor is it apparent how the Covenant remains in force even when there are occasional visitors from Earth, so that Borthan citizens become exposed to alternative ideas.  The mind-reading drug is available on a neighboring continent, so (despite the population's strange disinclination to travel) it stretches credibility how Darival is the first person to try to spread new ideas about love.  Also, it made little sense why the technology of Borthan was at the early-20th Century stage (cars and telephones), despite the story taking place about a millennium in the future.  Lastly, I couldn't understand the taboo against self-referencing pronouns.  Original architects of the Covenant clearly wanted people to think of themselves as individuals–it's considered virtue to solve your own problems without burdening others.  So why forbid the use of "I" and "me?"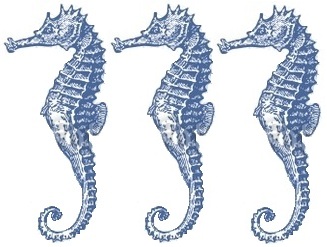 With regret, I'll give this novel a rating of 3 seahorses.  See the basis for my rating system here.  I do recommend A Time of Changes, but it is not my favorite book by this author.  If you feel I've been unfair, please enter a comment for–
                                                                       Poseidon's Scribe