I'm running my first book giveaway!  I'll be giving away three free copies of "The Wind-Sphere Ship," which normally sells for $2.99.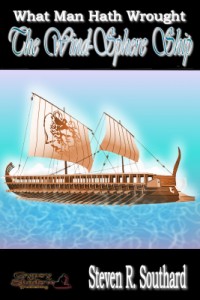 Here are the rules:
Giveaway ends September 24, at 11:59 PM EST. There will be three winners, each receiving an eBook copy of The Wind-Sphere Ship, by Steven R. Southard. The giveaway is open to anyone with an e-mail address.    Digital copies will be distributed via Smashwords.com where the preferred format can be chosen. Winners will be selected randomly via Rafflecopter.com and be notified by email. Each winner will have 48 hours to respond before a new winner is selected. The book offered for the giveaway (The Wind-Sphere Ship) is free of charge, no purchase necessary. The promotion is in no way sponsored, endorsed or administered by, or associated with, Facebook or Twitter. By providing your information in this form, you are providing your information to Steven R. Southard alone. I will not share or sell your information and will use your information only for the purposes of contacting the winner, and for offering a newsletter, if I ever start one of those. If you have any additional questions – feel free to send me an email at steven-at-stevenrsouthard-dot-com.
You can enter by:
1. Tweeting the message "Steve, I'd like to enter your giveaway contest to win The Wind-Sphere Ship."
2.Visiting my Facebook page.
3. Leaving a comment on this blog post (worth twice as much as tweeting or visiting Facebook). Comment must contain my first name, and the name of the book.
Think of The Wind-Sphere Ship as proto-steampunk. We know Heron of Alexandria invented the steam engine in the 1st Century, A.D.  History books don't reveal that Heron used this engine to propel a ship.  If his steam-ship could beat a man-rowed galley, could he make the Industrial Revolution happen 1700 years early?  Let the race begin!
The contest starts on September 8th and ends on September 28th. Good luck!
Poseidon's Scribe