The interview series continues, this time with author Todd Sullivan, who's got a story in the upcoming anthology Dark Luminous Wings.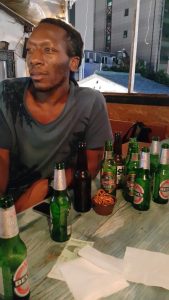 Todd writes fiction, mainly speculative and urban horror/fantasy. He's been published in several venues, including Eastit Journal, Tokyo Yakuza Anthology, and Tincture Journal. He attended his first serious writing class at Stanford University, then participated in the National Book Foundation's 10 day summer writing retreats. He graduated with a Bachelors in English with Concentrations in Creative Writing from Georgia State University, and has earned a Masters of Fine Arts from Queens College in Flushing, New York. Todd moved to Jeju, South Korea, where he taught English in the public school system for five years. He is now in Suncheon-Si in Jeollanam-do province, where he teaches pre-K students English.
And now, the interview:
Poseidon's Scribe: How did you get started writing? What prompted you?
Todd Sullivan:  I started writing quite young. Sometimes in early elementary school. I'm not entirely sure what prompted me to pick up the pencil and put words to page, but I've surmised over the years that it probably had something to do with the severe speech impediment I was born with. I have no phonics skills, and learned how to speak by memorizing the way words sound. I took speech therapy before I started school, missing pre-k as a result. However, it was still always difficult for others to understand me when I spoke. I believe it this difficulty at verbal communication that prompted me to write. As a child, I filled brown spiral notebooks with stories, and had quite a collection that I kept up until Hurricane Katrina in 2005. The home I grew up in in New Orleans was destroyed along with all of my earliest writings.
P.S.: Who are some of your influences? What are a few of your favorite books?
T.S.: One of my earliest influences was Dungeons & Dragons. My older brothers were avid players. I was too young to play with them, but I would watch them play, and would read the books when they weren't around. Reading Dungeons and Dragons' campaigns helped me develop a sense of plotting. However, learning the art of storytelling probably came from my father. Every evening at dinner my father would tell us about his workday, and he was great at building up narrative tension for dramatic effect.
My love of reading came from my mother. Growing up, I seldom saw my mom without a book in her hands, and our shelves at home were full of books. Sometimes in elementary school, I read Anne Rice's The Vampire Lestat, and this novel was probably the first style that I tried to emulate in my own writing. After that, it was Herman Hesse's Siddhartha and Steppenwolf, and then Robert Anton Wilson's Schrödinger's Cat Trilogy, and Wilson's and Robert Shea's The Illuminatus! Trilogy, that I tried hard to emulate in my own writing.
Ultimately, though, it wasn't until I was in my early 30s and read a manuscript by a young guy I met here in Korea that I finally figured out what I was missing in my own writing. Reading Jarmo, a self-published book by Adam Spielman, made me realize the one mistake I kept making, and it's a common one among writers. I was being too nice to my characters, making their burdens too light when readers are more interested in the trials and tribulations of fictional creations.
P.S.: Where do you get the ideas for your stories?
T.S.: I am a writer of the immediate. I have to have very close, personal experience of what I write about. My muses are the people I meet, the places I live, and the jobs I work. I am a writer who must keep experiencing new things in order to write.
P.S.: When and why did you begin writing fiction?
T.S.: It never occurred to me to write anything besides fiction. I am more of a novel writer than a short story writer, though I think I've finally figured out the short story form. The ideas I come up with tend to have a lot of depth and it's usually easy to see them being developed further into more complicated works.
The novel is a massive commitment, however. I've written four, and I'm always relieved when I can write 'The End' on a first draft. Writing a novel is like travelling out into deep space with a destination in mind but so many ways in which you can get sidetracked along the way. And space is so vast that once you get caught up in one corner of it, it can take a really long time to get back on course.
P.S.: How has your experience with living and working in South Korea shaped your writing?
T.S.:  I lived in Korea two years before finally completing a short story based on my experiences here. My attempts to craft fiction the first 24 months all felt flat because they were too closely related to the prose I wrote in my Master's program at Queens College. I wanted to write something new and different in this foreign country, and it took a couple of years of living in Korea before I met the right person and had the right conversation that sparked a novel called Natural Police. I finished this novel over a three-year period while living on Jeju, a small island at the southernmost tip of Korea.
With everything I write in Korea, however, I'm always careful to say that my fiction is not a Korean story. I feel that only Koreans can tell a Korean story. Instead, I write western fiction that takes place in Korea. It's rare that my main characters are solely Korean. They are supernatural in some way, a species outside of mankind. This allows me to fill in the blanks that I don't know about Koreans with my imagination.
P.S.: What are the easiest, and the most difficult, aspects of writing for you?
T.S.: The most difficult has been the lifestyle I've lived, at times voluntary, at times involuntary, of constant change to find new material. I can say without hesitation that I've spent far too much time alone between periods of transition in my life, and this is difficult.
As for the easiest, I don't have an answer. Writing has been one long personal trek, an uphill climb of an Everest with no pinnacle. I think the only reason I kept climbing over the years is because I never found anything worth stopping for.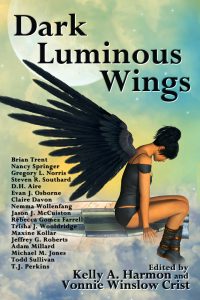 P.S.: Your story, "Wheels and Deals" will appear in the upcoming anthology Dark Luminous Wings. Please tell us about this story.
T.S.: The story is actually based on an old idea I conceived in my 20s. I had always wanted to write this story, but it wasn't I lived in Seoul and studied Korean at Yonsei and Sogang Universities that I could clearly perceive an actual narrative. "Wheels and Deals" is about an angel that has lost its grace in pursuit of autonomy. In order to gain greater power, it now sells pure souls to demons and devils in Hell.
P.S.: Who is the protagonist of "Wheels and Deals," and what is fascinating about this character?
T.S.: The protagonist is a Congolese girl who is studying Korean at Sogang, a Catholic university in Seoul. She's fascinating because she risks everything to return the angel to grace. Her selflessness, in comparison to the angel's selfishness, creates an intriguing dichotomy in the story.
P.S.: In what way is your fiction different from that of other authors in your genre?
T.S.: When I try to objectively analyze my writing to determine if it truly is unique, what I see of my narratives are first and foremost genre stories. I write about ghosts and goblins and the creatures hiding in the dark.
However, I have a Bachelor of Arts in English and a Master of Fine Arts in Creative Writing. I was trained to write literary fiction, so I pay a lot of attention to character develop, dialog, and the construction of prose on the page.
From spending so much time alone over the years, I've indulged in a lot of philosophical ruminations, and plug that into my literary based genre fiction.
I have had many close, intimate relationships with a variety of the world's people, so the characters in my fiction reflect this. My narrative worlds have been populated by people from South American countries, Asian countries, Middle Eastern countries, European countries, as well as by North Americans.
My literary based genre fiction has philosophical leanings and is multiracial and multicultural. I read a lot, and I don't see this type of narrative combination out there.
P.S.: We understand you've written Natural Police, a novel that is not yet published. What is that novel about?
T.S.: Natural Police is about a Korean woman who is manipulated into joining a secret organization of undead government employees. It's a horror novel, but the monsters are the main characters. It's a speculative fiction novel because the narrative goes through great pains of exploring how a society like this could literally exist unknown in the mortal world. It's at times unsettling because readers are seeing the world through the eyes of the beasts, but it's an engaging read with lots of cliffhangers and surprises to maintain reader engagement.
P.S.: What is your current work in progress? Would you mind telling us a little about it?
T.S.: I am working on my first fantasy story in many years. It's a long short story, and will probably clock in around 15,000 words. The title is "The White Tiger," and it takes place in feudal Korea. It's been a difficult story to write as I've had to do more historical research than I'm comfortable with. However, the story is coming out well, and I believe it's going to be one of my best pieces to date.
Poseidon's Scribe: What advice can you offer aspiring writers?
Todd Sullivan:  Pursing writing for anything more than a hobby is a mistake. Most people who write are trying to get to a "there" that isn't going to happen. And they pay a heavy toll for that failure, because the "there" in which they are as close to happiness as they've ever been in their lifetimes.
I would tell aspiring writers to forget about getting "there". Treat your writing as you would any other hobby you may have taken up. If you ever did martial arts, you didn't seriously expect to be the next Bruce Lee. If you ever took up cooking, you didn't except to be the next Gordon Ramsey. If you ever played tennis, you didn't expect to be the next Serena Williams.
Well, perhaps once as a child you did, but then you grew up and came to realize that that type of success is really never going to happen. So you just did these hobbies for the personal fulfillment they brought you.
Do not chase the mirage. You'll die of thirst before you realize the oasis is just an illusion. Don't write to be the next Stephen King or J.K. Rowlings. You're only building yourself up for disappointment. Write solely because it is one of many things that bring a sense of completeness to your very short life. And if, for some reason, your writing becomes massively popular, so much the better.
Thanks for the wonderful interview, Todd! Readers can find out more about Todd Sullivan at his website, on Facebook, and on Twitter.
Poseidon's Scribe