Once again Poseidon's Scribe has landed a fascinating interview with a fellow author, who has a story appearing in the anthology Avast, Ye Airships! Today's interview is with Steve Cook.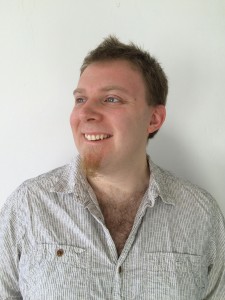 Steve Cook is a part-time writer, part-time teacher, currently dialing down on the latter so he can focus on the former. He's married and lives with his wife and cat in London, England.
At last, the interview:
Poseidon's Scribe: When and why did you begin writing fiction?
Steve Cook: I began writing fiction in 2010. It was my first year working as a primary school teacher and I had prepared as much as I possibly could during the Christmas holiday. Then, the first week back in January, we had a record snowfall for the area and the school was closed. We happened to live opposite a Starbucks, which meant we were basically in there every evening. I just grabbed my netbook and took it over there and started to write, funneling all the readiness and energy into that instead. I rattled along writing chapters of a pretty terrible book idea, and then got into NaNoWriMo in a big way. That's been responsible for most of my output over the last six years.
P.S.: What are the easiest, and the most difficult, aspects of writing for you?
S.C.: The easiest aspect of writing for me is world-building. I probably spend too long on it, but it pays off when you can write something in that suggests a deeper, richer world beyond it. Short stories and flash fiction that flesh out the world are something I really enjoy doing. The most difficult aspect of writing is editing, without a doubt, and I get round it by showing my stuff to different people. Everyone has a different thing they look for: my wife is a designer and illustrator, for example, and she really focuses on the visual design of what I write.
P.S.: What genres have you written in, and do you have a favorite?
S.C.: I've written mainly fantasy and science fiction. I enjoy both of them! Most of my fantasy writing in the last year or so has been for the Dungeons and Dragons group I run; they've been playing for the best part of three years now. I've been doing a lot of writing for Noctis Point, which is the book I'm working on right now. It's set a couple of hundred years into the future, and it's really fun to take technology from today, or even theoretical technology, and apply it to that setting.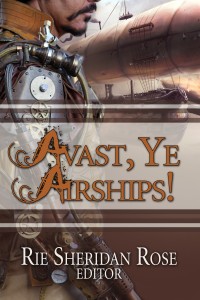 P.S.: You wrote "The Clockwork Dragon" for the Avast, Ye Airships! anthology.  Can you tell us a little about that story?
S.C.: "The Clockwork Dragon" is a story about some privateers working under contract to retrieve an artifact; they're ex-pirates, so it's not long before treachery and greed overcome the captain, who teams up with the cook and absconds with the loot. It's up to the first mate to track them down in a chase in the skies of Ireland and Scotland. Like most of the fiction I write, it grew organically from one image, one scene: a giant clockwork dragon, bellows for lungs, canvas wings and so on, hovering over an airship in lashing rain. I actually own a clockwork dragon miniature, and it has made an appearance in our D&D game!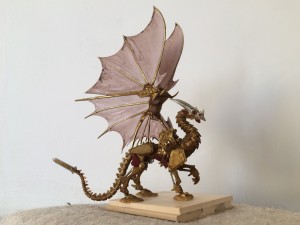 P.S.: You participated in Nanowrimo last November.  Was that your first nano?  What was that experience like?
S.C.: I've been taking part in NaNo since 2010. I honestly can't remember how I came across it, but it's brilliant. It breaks up the writing into bitesize chunks and even gives me a little chart to let me know how much I've written, what my average is, that sort of thing. It also helped me to come across other local authors in the Milton Keynes area; several of us met up towards the end of the 2010 NaNo to write together. I didn't make it the following year, sadly; a combination of a lack of enthusiasm in my story idea and a crazy work schedule meant that I fell short by a considerable distance. In 2012, I wrote Poisonroot, and built the world that my D&D group plays in, so that's constantly being worked on. In 2013 I cheated slightly and wrote ten short stories set in the world of Poisonroot; that was even more fun because I got to play with different styles and techniques within the same body of work. I actually completed two NaNo projects in 2014, because I did Camp NaNoWriMo earlier in the year. That was the first version of what would eventually become Noctis Point, the bulk of which I wrote in November 2014. Finishing my most recent NaNo was a close run thing; I was working as a teacher still, and we had the inspectors come in. We had four days of twenty-hour work days, and writing just wasn't a priority any more. I had to write 12,000 words in two days to finish. My NaNo author page is here.
P.S.: From your website, it appears you are into Massively Multiplayer Online Role-Playing Games (MMORPGs.)  Do you find that helps your fiction writing, or takes time away from it?
S.C.: Definitely it takes time away from it! I've played a lot of MMOs, but for the last eighteen months I've been playing a lot of Final Fantasy XIV. It's a real timesink, but it's also a way to talk with my friends and be social. My wife and flatmate both play it as well, so there's always something going on. There are some wonderful little bits of writing that are inspirational, but mainly I'm in it for the music, which I listen to when I'm writing.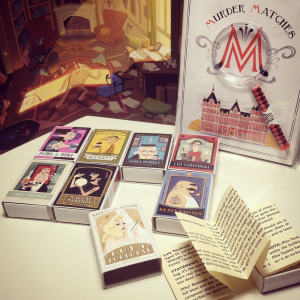 P.S.: You recently collaborated on a product called Murder Matches.  It looks like a murder story told from eight different points of view.  Can you tell us more about that?
S.C.: Nana Li is a good friend of mine, and incredibly talented. She had been working on an idea inspired by designer matchboxes, and wanted it to be a murder mystery where each matchbox contained a character profile or statement which, when put together, would help a reader solve the mystery. I love things that twist and I'm a real fiend for puzzles, so it was awesome to work with her on this. I can't give away too much for fear of spoiling the mystery! Writing the characters was fun, as each one had a different voice. It was a real challenge, giving away a couple of clues in each one while at the same time trying to suggest a motive for everyone. We're working on a sequel for release this year.
P.S.: What other authors influenced your writing?
S.C.: I've read a lot of fantasy and science fiction, which is pretty much all I write. For fantasy, authors such as Trudi Canavan, Stephen R. Donaldson, Tolkien, Tom Holt, Terry Pratchett, Raymond E. Feist and Peter V. Brett have really inspired me. On the science fiction side, Arthur C Clarke, Isaac Asimov, Stephen Baxter, Stel Pavlou, Iain M. Banks and Dan Simmons are really high up on the list. I've read quite a lot of John Courtenay Grimwood's cyberpunk books as well. The truth is I'll read pretty much anything going! I can see little things that have inspired me from all of those authors, flairs or personal touches that strike me as being from that particular style of writing, but I try wherever possible to have my own style.
P.S.: What is your current work in progress? Would you mind telling us a little about it?
S.C.: Noctis Point is a science fiction story set a couple of hundred years in the future. Through war and economic collapse, the Earth has eventually been united into an Empire, which has begun to reach out to the stars for colonization. In the process, it has encountered an alien race living on the moons of Jupiter; imagine spider-centaurs and you're halfway there. These 'Spiders' are initially peaceful, but things quickly turn bad when they ambush a delegation from Earth during peace talks, and battle lines are drawn. Another faction involved in all this is the psychs, living on Mars. They are humans who have evolved psychic powers when they turn sixteen, and more of them are beginning to appear every year. Partly in fear of them, the Empire has ordained that they should live on Mars, in a base known as Noctis Point, where they will be trained in preparation for joining the Empire's armies as elite soldiers. The story follows two main characters: Alex, a boy who manifests the power and is sent to Noctis Point to train; and Imperial Princess Ariadne Cutter, the daughter of the Emperor, whose role as her father's spymistress leads her into a terrorist plot that could have grave consequences on the war.
P.S.: Please tell us about your podcasting activities.
S.C.: I run a once-weekly podcast, Pocket Fiction, where I read either a short story or part of a longer piece. Up until just recently it's been my own work, which has been really useful for me, but I'm looking forward to working with some of my fellow pirates in the anthology. I'm always looking for people to collaborate with, and producing Pocket Fiction is genuinely fun. Having more time recently has allowed me to go for better production values as well. I built a little recording booth and I've begun to add sound and vocal effects to deepen the immersion even further. Pocket Fiction is available on the iTunes store, but I also upload each week to Tumblr and to YouTube, where each video is played over a roaring fire. That was one of the initial ideas I had for the podcast; that it was tales told around a campfire, something to make you feel warm and relaxed.
Poseidon's Scribe: What advice can you offer aspiring writers?
Steve Cook: Tell people who you trust to give you honest feedback that you're writing; they'll help you and support you, and hopefully you can persuade them to read your work. Sometimes it's good to plan stories out, but more often than not I find the characters somehow wrest control of the story away from me halfway through and we diverge. It's ok for characters to be different on paper than how you initially imagined them. Probably the most useful thing I do is read my stuff out loud; having to read each word finds every mistake, every awkward phrasing, and sometimes you pick up on things that you would otherwise have missed.
Thanks, Steve! I'm sure you've enticed my readers to visit your blog, follow you on Twitter, and visit you on Tumblr.
Poseidon's Scribe