Most weeks I blog about writing, but this time the topic is more about reading, specifically the technology of reading.
As you can tell from my fiction, I write quite a bit about people coping with new technology. I'm fascinated by the process of one technology supplanting another. The process forms a repeating pattern, whether you're discussing the transition from sailing ships to steamships, from horse to car, or from dirigibles to airplanes.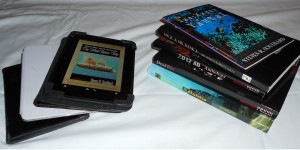 When society is in the midst of such a technology transition, as we are now moving from traditional paper books toward electronic books, or ebooks, debate often rages about which technology is 'better.' Some people embrace the new, others cling to the old.
Those who cleave to more traditional technology often use arguments based on 'romantic' ideas, things like aesthetics and the lifestyle that will be lost. In other words, the world has formed itself around the old technology, and layered infrastructure and culture around it. When traditionalists envision a new technology supplanting the old, they associate the old tech with its accompanying milieu, and bemoan the loss of all of it.
I'll not wade into the argument about whether print books are better than ebooks.   For one thing, most of my published books are available only in ebook form. For another, the marketplace will decide the real answer no matter what I say.
Besides, no new technology ever completely stamps out an old one. People still use sailboats, ride horses, and fly in balloons, as part of nostalgic connections with the past.
Let me play the crotchety old traditionalist today, and tell you young whippersnappers all the things you lose with ebooks.
What'll you do when the power fails and your battery runs out? Can't recharge your e-reader then, can ya? I'll still be reading my print book by the light of a flashlight or candle.
Can't really lend or sell your ebook to a friend. Oh, you could loan 'em your reader, but then you can't read until your friend gives it back.
You can't impress anyone with your ebook. You can't hold it prominently while waiting for a bus or walking in a school hallway, letting everyone know what you're reading (or what you want them to think you're reading).
You can't dazzle anyone with your whole library. Think o' them commercials for lawyers, or politicians on the talking head shows. They always have a bookshelf behind them, lined with important-looking books. Think of all those books stored in an e-reader, and that e-reader sitting alone on the bookshelf. Not quite the same impact, is it?
Try putting your e-reader on your coffee-table. 'Nuff said.
Got little kids? Oh, they'll be real enthused about reading when you snuggle up with your e-reader. My grandkids much prefer the real books with pictures and pages that turn. They love those pop-up books, too.
Looks like some bit or byte got out of place and your ebook froze up. Too bad. I'm still readin' right along with my print book, with no circuit cards or software glitches in sight.
Every book is different, and deserves to be different, and separate from other books. Your ebook reader jams 'em all together so they all seem the same. Print books have different sizes, shapes, colors, fonts, paper thicknesses, and smells. All that stuff combines with the content to form the overall experience of the book.
Are you a collector? Not only is it tough to impress folks with your ebook collection, but it's not like the collection's value will go up with time, like first edition print books do.
There have been some really good blog posts written on this subject by others, notably here, here, and here.  To repeat, I believe the marketplace will sort out whether ebooks truly replace print books, but no matter what, print books will never truly vanish. A lover of ebooks and traditional books alike, I'm—
Poseidon's Scribe