Some say our bodies speak more clearly and honestly than our mouths do. I don't know about that, but I think it will help your fiction if you show your characters using appropriate body language from time to time.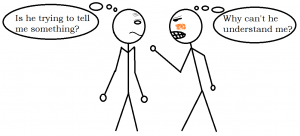 Why? For one thing, body language helps break up long strings of dialogue quotes to keep the text more readable and interesting. Body language allows you to show internal conflict within a non-Point-of-View character by contrasting that character's words with some clashing body language. Also, body language can emphasize the emotions of a character by going beyond mere spoken words.
Body language, or kinesics, includes such things as facial expressions, body posture, gestures, and tone of voice. Subdivisions of kinesics include Oculesics (body language of the eyes), Haptics (body language through touching), and Proxemics (body language using distance).
Author Amanda Patterson, founder of Writers Write, has provided a convenient online table that provides the typical body language expressions for many emotions.
There are a few ways you could use this resource:
As-is. Just find your character's current emotion, and have the character display some or all of the body language manifestations. This may contrast a bit with what the character is saying, and that shows either internal conflict or deception.
Characteristic body language. For one of your main characters, establish a pattern where that character displays a particular body language much of the time, thus establishing a character trait and linking it to a predominate personality trait. Jules Verne's Captain Nemo often crossed his arms, denoting aloofness, distance, and defensiveness.
Given that the table provides typical body language, consider showing one or more of your main characters exhibiting slight variations on those common traits. Those variations may say something about your characters' personalities.
It's not clear if body language is common across all countries, all cultures, or all time periods, so be careful and do some research before assuming a character would exhibit the body language you do.
Lastly, don't overdo it. Just like long strings of dialogue get boring, so does too-frequent use of body language.
Jumping up and down while pumping my fists in the air, I'm—
Poseidon's Scribe
Please follow and like me: