Attention, Poseidon's Scribe fans, and Steampunk party hounds: there will be a Facebook launch party for the anthology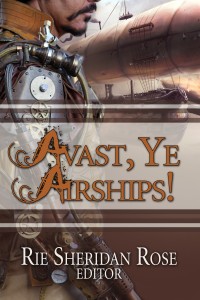 Avast, Ye Airships! It will happen Saturday, February 28th, from 7:00 to 11:00 PM EST. That's 6 PM to 10 PM CST, 5 PM to 9 PM MST, and 4 PM to 8 PM PST. You'll have to calculate it yourself for all other time zones.
My tentative timeslot for this party is 8:30 to 8:45 EST, and I'll put out a new post or update this one if that changes or is confirmed.
I've never participated in a Facebook party before, but my understanding is that it's like a chat, where you can ask me questions. As a service to my fans, I thought I'd give you some tidbits about the story I wrote for the anthology. These may prompt some questions you can ask:
Story title

: "A Clouded Affair"
Backstory and Setting

: It's an alternate 1920, where large, dirigible airships in Europe have been preyed upon by sky pirates for decades. They've developed strong defenses, which forced the pirates to become crafty, hiding in the clouds as a tactic. In the New World, air piracy is a more recent thing, so the big cargo airships fly without escorts, nets, or defensive weapons.
Main Characters

: William Starling leads an aging gang of English pirates flying a steam ornithopter. They've abandoned Europe for the greater promise of American aerial loot. Last to join his gang was young Nell Remige, a female adventure-seeker who worked hard to become William's first mate. If William isn't careful, he'll encounter Crank Deco and his Chicago-based gang who fly a modern, diesel-engine biplane. That could bring on a steampunk vs. dieselpunk contest in the air, the last thing William needs. As for Nell, if she and William somehow make it out of this alive, what does she really want?
Remember, this Saturday night is your big chance, if you've ever wanted to party with—
Poseidon's Scribe
Please follow and like me: